Dell Toner Recycling for Cash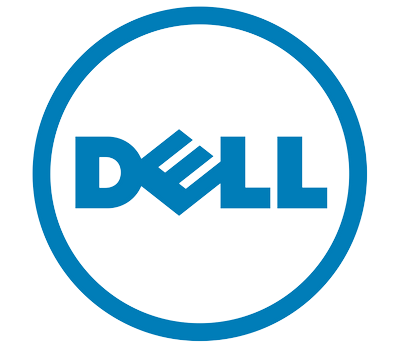 Dell Toner Recycling
Got extra Dell toner for your laser printer? We'll buy it!
The Dell name is synonymous with quality computer equipment. From laptops and mainframes to printers and peripherals, Dell does it all, and it does it well…even recycling. Reducing e-waste is a constant goal for Dell, and any program that keeps ink or toner cartridges out of landfills is worthwhile. Those plastic containers can take 1,000 years to break down…or longer!
The Dell Toner Cartridge Recycling Program
Dell is committed to earth-friendly business practices. Dell toner recycling program is not only responsible, it's FREE to customers. Whether you're a one-printer home user, or managing a roomful of Dell laser printers for a large corporation, Dell has figured out a way for you to recycle your printer cartridges responsibly.
You can learn more about Dell Toner Cartridge Recycling Program here!
Where To Recycle Dell Toner Cartridges?
No matter where you are in this big old world, Dell recycling has got all your recycling needs covered!
Dell toner recycling is possible in a variety of different ways:
Where To Drop Off Dell Toner Cartridges Locally
Perhaps the simplest option when recycling Dell toner cartridges is dropping empty cartridges off at a local collection point. This is usually an office supply store in your neighborhood.
Use Dell Reconnect to find a local drop-off location. You can even drop off empty toner cartridges in bulk!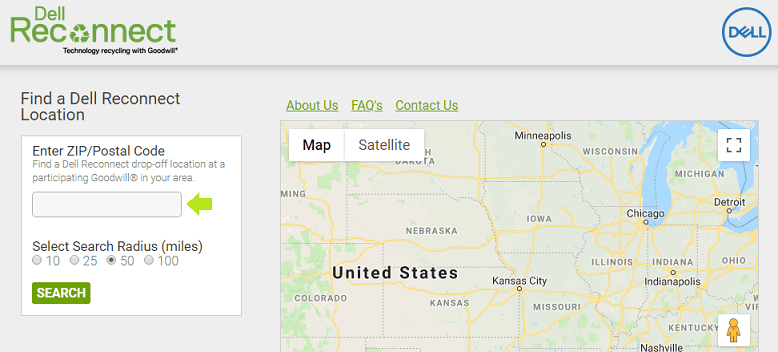 With Dell Reconnect you can easily find a local drop-off location for your Dell toner recycling.
How To Donate Your Used Dell Toner Cartridges
You can also donate your used ink and toner cartridges. This can be done by dropping your cartridges off at a participating Goodwill.
Once dropped at Goodwill your cartridge will not only be properly recycled, you'll also help to create jobs and skills training for people in your community.
It feels good to give! Plus, it's a tax write-off. Get a donation receipt from Goodwill through Dell Reconnect!

Donating is another option when it comes to Dell cartridge recycling.
How Businesses Can Recycle Dell Toner Cartridges
Business owners and office managers have a lot to worry about; don't make toner cartridge recycling one of them!
Dell makes toner cartridge recycling easy for businesses with its Asset Resale and Recycling Service. This Dell recycling program will make sure all of your old, outdated electronic devices are responsibly recycled, not just your empty ink and toner cartridges.
How To Recycle Dell Ink Cartridges
Everything seems to be clear with Dell toner recycling but there are also Dell ink cartridges. So, how do you recycle Dell ink cartridges?
Here are some options:
Option 1: Dell's prepaid ink label allows you to box and ship up to 300 empty cartridges at one time.
Option 2: Most of the big office superstores out on the highway will have a bin for recycled printer cartridges. Usually, you can use them to recycle your Dell ink cartridges.
Option 3: You can also recycle ink (and toner) cartridges during a community-wide hazardous waste collection day. Check with your town clerk for specific pick-up dates and times in your area. Other regions may have a hazard waste drop-off point for residents. Again, your country clerk (or country website) should have the answers you seek.
Dell Cartridge Recycling By Mail
Dell's Mail-Back Service allows users to recycle their ink and toner cartridges for free by mail. Using Dell's Mail-Back Service, you can download a prepaid Dell Ink Recycling Label, prepaid Dell Toner Recycling Label, or a prepaid single-unit user label.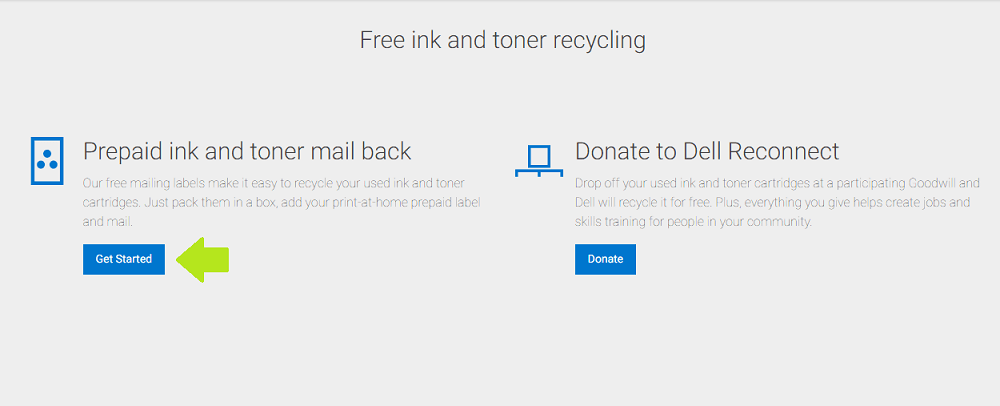 Free mailing labels for Dell cartridge recycling can be easily obtained from Dell Technologies website.
Just enter your shipping and contact information into the online form, and print the label out on your home computer. Dell picks up the shipping cost when recycling its print products.
You can print prepaid labels for a single-unit toner or for returning multiple empty ink and toner cartridges.
Dell Toner Recycling By Mail: With a prepaid toner label, you can pack up to 20 empty toner cartridges per box, slap on that prepaid shipping label and let professional postal carriers handle the rest.
Dell Ink Recycling By Mail: Dell's prepaid ink label allows you to box and ship up to 300 empty cartridges at one time.
The prepaid single-user label is convenient for home users who only occasionally need new toner. Simply put your old toner cartridge in the box your new toner came in, print out a label, and pack it up.
This program even recycles the packing your empty cartridges came in. Win-Win, Dell!
How To Recycle Cartridges With Dell's Free Toner Pallet Pickup
You can even load up a pallet with empty toner cartridges and Dell will come and haul it away for free.
Seriously, pack up to 20 cartridges in a box, stack four boxes per layer, and build a tower three layers tall!

Dell also offers free toner pallet pickup which can be scheduled online here.
Dell will arrange a free pallet pick-up…as long as your pallet stays under the max weight of 150 kilograms. It doesn't get any easier than that!
How To Recycle Dell Cartridges Internationally
You can responsibly recycle your Dell ink and toner cartridges anywhere in the world with the company's global recycling services. With Dell's global recycling, you're only a few clicks away from finding the best way to recycle Dell products in your part of the world!
Recycling Your Empty Ink and Toner Cartridges For Cash
Several online organizations purchase empty ink and toner cartridges, presumably so they can later be cleaned, refilled, and resold. This is why they will often only purchase brand name cartridges and not compatible ink or toner cartridges.
One nice option when using a trustworthy empty cartridge buyer, is that they will often allow you to donate all or some of your payout to charity. Instead of tossing those empty cartridges in the trash, do the right thing and help somebody out!
Also, selling back your unopened, unused toner is also a great option. It pays much more than empty cartridges, and your unwanted toner finds a new, loving home!
How To Dispose Of Dell Ink Cartridges
Instead of disposing of Dell ink cartridges by tossing empties into the trash can, recycle those spent ink cartridges instead. Some of the materials in those empty cartridges can be reused in the manufacture of new cartridges.
In addition, other materials in empty cartridges must be disposed of in certain ways in order to protect the environment. (Hey! You've got ink on your fingers! Learn how to get it off here!)
Dell's Storied History
Dell's commitment to recycling starts with its waste-free packaging, made exclusively with recycled and renewable source materials. Not only are Dell toner cartridges easy to unpack, but the packaging materials can all be disposed of through recycling or composting!
Dell was founded by 19-year-old University of Texas freshman, Michael Dell, back in 1984, and its corporate headquarters remain in Texas. Dell is proud to help countries, communities, and single-use consumers realize their dreams.
Popular Dell Toner Cartridges We Buy:
Dell e525w toner
Dell e310dw toner
Dell c1760nw toner
Dell e515dw toner
Dell e514dw toner
Dell h625cdw toner
Dell b2360dn toner
Dell s2830dn toner
Dell c2660dn toner
Dell 2335dn toner