Printing Cost Calculator
---
Calculate Your Cost Per Page
---
Get a Grip On Your Cost Per Page With Our Free Printing Cost Calculator
Nailing down your cost per page is an essential part of controlling print costs. Figuring out your true printing cost isn't difficult — and we've made it even easier with our Printing Cost Calculator!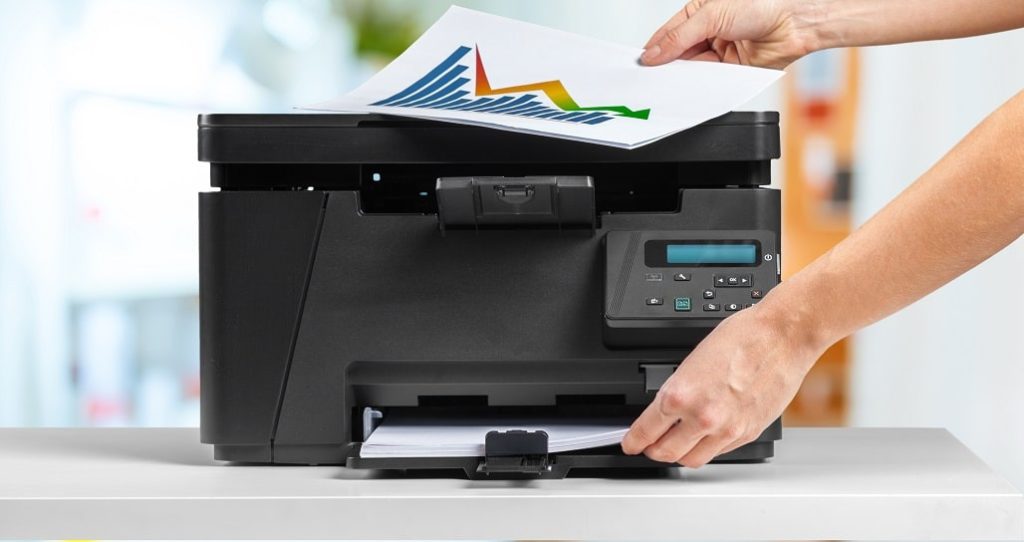 ---

Figuring Cost Per Page (black-and-white prints)
Simply divide your cartridge price by your projected page yield to get your cost per page. Don't forget to add a penny or so per print for the cost of the paper!
Printer cartridge price / Projected page yield + Paper cost = Cost Per Page
It doesn't matter if you're using ink or toner, the formula is the same.
---


Figuring Cost Per Page (color prints)
Figuring out the cost per page for color prints uses the same formula but expands it to include the cost of the color cartridges.
(Black cartridge cost / page yield) + ((Color cartridge cost / page yield) x 3) + Paper price = Color printing cost per page
*This formula assumes that all three color cartridges cost the identical amount.
Here you will need to figure out the cost per page for the black cartridge and the color cartridges and add them together. Black toner is less expensive than color and often has a higher page yield. Cyan, magenta, and yellow cartridges have the same page yield, so once you figure out the cost per page for one color cartridge, you can multiply it by three and add that number to the black cartridge cost per page (plus a penny for the paper!) to calculate the cost of each of your color prints.
---

What is Page Yield?
The page yield, which you will usually find printed on the packaging your printer cartridge came in, is the number of pages you can expect to print before that cartridge runs empty.
Most page yield numbers are fairly accurate but can vary widely depending on what you are printing. Page yield numbers are based on 5% page coverage which is defined as an average printed page. But if you print a lot of photos or graphics, you're going to consume ink or toner at a faster rate.
---

Color Prints vs. Black-and-White
In general, color prints cost nearly double to produce compared to black and white.
In addition, a less expensive printer might have a higher running cost than a high-end, more efficient machine. For example, a $100 printer might print black-and-white pages for six cents per page and color for around fourteen cents, while a $1,000 printer could print black-and-white for four cents per page and color for eight. In a high-volume print environment, saving pennies per print quickly adds up.
---

Ink Jet vs. Laser Printer
Once upon a time, owning and operating an inkjet printer was far cheaper. Laser printers were relegated to office use only. But prices have come down to a point where inkjet printers and laser printers are nearly equally priced. And high-capacity ink tanks give inkjet printers the high page yields that were once the sole domain of laser printers.
Which has a lower overall running cost, inkjet or laser printers?
The simple answer is that laser printers run cheaper per page than inkjet printers. Ink is incredibly expensive, especially when compared to the page yields of ink cartridges versus toner cartridges. For example, a standard inkjet cartridge may yield 300 pages while a standard toner cartridge will deliver 3,000 pages. In addition, toner doesn't dry out like ink, so it lasts far longer in your printer.
Still, inkjets are everywhere and excel at high-end photo prints. Inkjet printers are generally less expensive to buy, and replacement ink is easy to find. Laser printers may cost more upfront — and replacement toner will cost more than ink cartridges — but you'll save more on operating costs.
---
How to Lower Your Cost Per Page
You can save on print costs by keeping your printer properly cleaned and maintained. Clean those printer rollers! Also, consider using a printer-friendly font to lower your printing costs.
Also, using less expensive generic ink and toner cartridges may seem like a good idea, but you'll get poor print quality and unreliable page yields. We've heard of third-party cartridges rated for 3,000 pages running out after only 900 prints. It may seem like you're saving money, but you're losing out in the long run. Plus, generic cartridges can damage your printer. Stick with brand-name OEM cartridges.
---