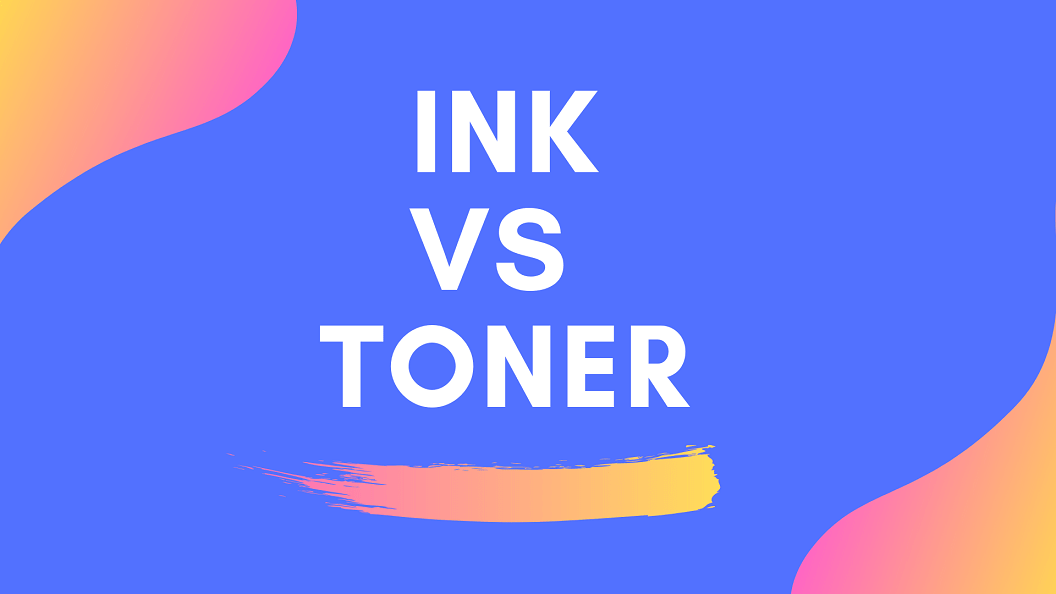 What is the difference between ink and toner?
Most people can't tell. Others believe ink and toner are the same thing.
So, let's take a few minutes to clear things up with 'need to know' details about ink vs toner.
First, we'll start with a comparative table for a quick look at the differences between ink and toner.
Then we'll analyze all those differences in detail.
Is Toner and Ink the Same Thing?
Ink vs Toner Side-by-Side Comparison
| Ink | Toner |
| --- | --- |
| Liquid | Dry powder |
| For use in inkjet printers | For use in laser printers |
| Better quality photo reproduction | Faster print speed |
| Ability to print on a variety of paper stocks, and non-paper materials | Only accept standard paper sizes |
| Ink cartridges dry out | Toner does not dry out |
| Ink cartridges expire | Toner does not expire |
| Ink cartridges have a lower page yield | Toner cartridges produce more printed pages |
| Lower start-up cost | Higher start-up cost |
| Higher cost-per-page | Lower cost-per-page |
Why Do You Need to Understand the Difference Between Toner and Ink?
Knowing the difference between ink and toner can be quite helpful in many different circumstances.
If, for instance, your boss asks you to order printer supplies and you order a bunch of toner for the inkjet printer, you'll probably get fired.
Also, knowing the difference between an ink cartridge and a toner cartridge will save you money.
Neither ink or toner are cheap, but nothing is costlier than buying the wrong one. That wastes both time and money.
Here's what you need to know about inks & toners in the first place:
Ink jet printers use ink cartridges
Laser printers use toner cartridges
Know what kind of printer you have before shopping for your printer supplies.
Toner and ink are like diesel and gasoline. Both are fuel, but they work in different types of engines.
Both ink and toner will help you print, but they're used in different types of printers.
What is Printer Toner?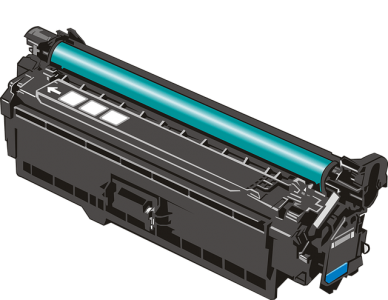 Printer toner is a fine, dry powder found inside the plastic toner cartridges inside your laser printer.
Toner comes in black, as well as yellow, magenta, and cyan.
The fine powdered toner particles are positioned on the paper using static electricity to form an image.
The particles are melted onto the paper using heat and pressure.
While toner components vary by manufacturer, the basic ingredients are the same toner is made of plastic dust.
Types of Printer Toner
Toner powder is made of special plastic substances that adhere to the paper and are then melted into place by pressure and heat.
Toner powder is a proprietary formula specific to your printer brand and model.
Brands like HP, Canon and Brother devote hundreds of hours toward research and development of specific toner formulas.
That's why we always recommend using genuine brand-name laser toner in your printer.
Compatible cartridges can't match the print quality or page yield of genuine OEM toners.
The basic formulas for color toners are the same for nearly all manufacturers:
(C) Cyan: pigment blue 15:3
(M) Magenta: pigment red 122
(Y) Yellow: pigment yellow 180
(K) Key/Black: carbon black mixed with plastic (powdered)
Other ingredients inside toner powder include charge control agents, like iron, zinc, and chromium, which help the toner particles hold their electronic charge.
Also, fumed silica powder keeps the toner particles loosened and free-flowing inside the cartridge hopper.
What is Printer Ink?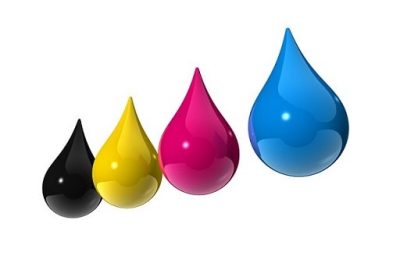 Printer ink is the type of ink found in the plastic cartridges installed in your printer.
Printer inks generally come in CMYK (cyan, magenta, yellow, and black).
Inks generally have two parts: colorants and binder.
Color is added to ink with either pigment or dye. Binders help the ink stick to the paper.
Types of Printer Ink
Printer ink is applied via a printhead, which sprays ink onto the paper.
Some manufacturers, like HP and Canon, use disposable printheads mounted to the underside of printer cartridges.
This means every time you change your ink cartridge, you are also getting a new printhead.
Other printer manufacturers, like Epson, use a fixed printhead.
Inkjet users argue that cartridges with disposable printheads deliver a higher cost-per-page than printers with a fixed printhead.
Either way, fixed or disposable, you're going to need to clean your printheads at some point.
Ink Versus Toner: is Toner the Same as Ink?
As you probably already guessed, ink and toner are NOT the same thing and they cannot be used interchangeably.
Ink is a liquid. Toner is a powder.
Ink is for inkjet printers, and toner is for laser printers.
Laser toner won't work in inkjet printers, and ink won't work in a laser printer.
But… Why not?
What's The Difference Between Toner and Ink?
Ink is a tinted liquid and toner is a fine powder. One is wet, the other dry. Night and day. Yin and yang.
Although toner and ink are not the same thing they both serve the same purpose — supplying a printer with the necessary material to print.
But they achieve this task in different ways.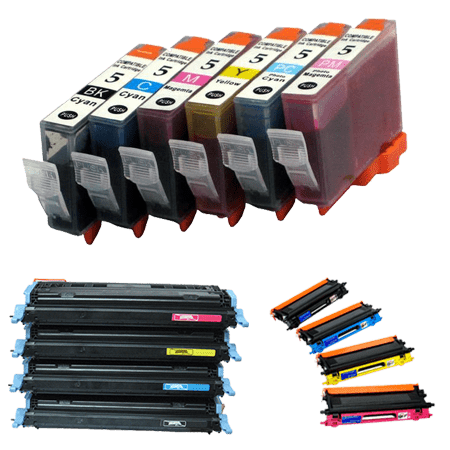 Toner and Ink are different, but in the end they do the same job (though in different ways and quality).
Inkjet printers take a tiny droplet of colored ink and spray it onto the paper through small holes in the printer's printhead. The ink is absorbed into the paper.
Laser printers use a negative charge on the paper to attract the dry toner particles.
The particles are then fused to the paper using heat and pressure.
That's why pages fresh out of a laser printer are warm.
The whole laser printing process is rather fascinating.
How Do Ink Cartridges Work
Ink is a liquid tinted with dyes or pigments.
The ink cartridges squirt very small droplets of ink through tiny nozzles and out onto paper.
The ink adheres to—and is absorbed by—the paper.
Inkjet printers typically require four separate ink cartridges to print: black, cyan, magenta, and yellow.
Each ink cartridge can be replaced when the supply of ink runs out.
High-end photo printers often use six, eight or more different ink cartridges.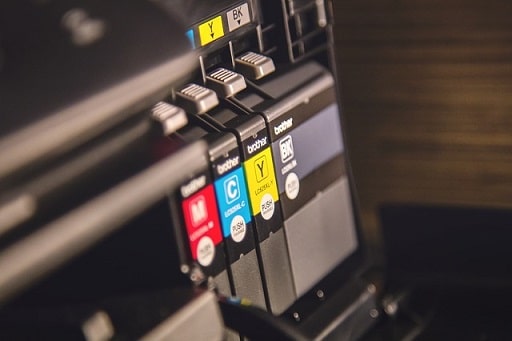 Inkjet printer uses four separate ink cartridges to print: black, cyan, magenta, and yellow.
Inkjet printers are best suited for small, image-heavy documents, like photos and school projects.
Working with ink, you might get messy. But don't worry.
We know secret methods for getting ink off your hands and clothes.
What Does Printer Toner Do?
As we alredy know, toner is not a liquid, but a very fine powdery substance.
The first ingredient in toner is ground polyester, which is a kind of plastic. The finely ground particles hold a static charge.
This is why toner particles adhere to anything with an opposite charge — in this case, an image on paper projected by a laser.
When printing with toner, it is actually the heat from the fuser that melts the toner, and pressure from the printer's pressure roller that adheres it to the paper.
Toner vs Ink Cost: Which Is More Expensive?
Neither ink or toner cartridges are cheap, especially if you buy genuine, brand-name ink and toner, (which you should).
Brand name printing supplies will cost you AT LEAST DOUBLE what compatible cartridges cost.
Let's take a closer look at how ink and toner differ when it comes to the cost.
How Much Does Ink Cost?
Ink is more expensive! Printer ink cost is somewhere between $13 and $75 per ounce, expensive. Ouch!
As a result, the cost per page of inkjet printers is usually much higher than laserjet printers.
However, printer ink cartridge cost can seem frugal compared to the cost of toner cartridges.
An ink cartridge might cost $20 while toner will cost $100.
The toner cartridge produces more than five times the number of pages, however, making it the overall better bargain.
In general, printer manufacturers sell devices below production costs with the hope you will continue to buy genuine ink and toner from them (cost of ink and toner, in this case, is expected to compensate low device prices).
But don't pay the MSRP on ink and toner.
Shop around — there are better deals out there on genuine ink and toner.
Toner Price
Toner cartridges are generally more expensive than ink cartridges, but they last longer and deliver more pages.
As a result, laser printers generally operate at a lower cost per page than inkjet printers.
In the early days of laser printing, toner cartridges were much more costly than ink cartridges.
But advances in materials and manufacturing have brought the toner cost down.
Still, you're going to pay more for a toner cartridge compared to an ink cartridge, but the toner cartridge will last much longer.
What Is The Difference Between Toner and Ink In Cost-Per-Page?
Cost per page varies greatly between inkjet and laser printers. Inkjets, on average, cost about 20 cents per page for a colored print.
Laser printers, both color and monochrome, generally operate around 5-cents per page.
Using high capacity ink and toner cartridges is a smart way to drop your overall cost per page.
Also, laser printers are much quicker, with print speeds between 15-100 pages per minute. An inkjet printer reaches top speed at 16 ppm.
In terms of print speed and overall page production, laser printers always beat inkjets.
Toner vs Ink: Which Is Better?
Our vote is for toner.
Toner cartridges don't dry out or expire. Ink does both.
Also, laser printers deliver sharper text and faster print speeds.
What's not to love about laser printers?
Well, the price of genuine OEM toner may seem high at first, but compared to ink cartridge prices, toner is a bargain!
And it's super easy to convert back into cash too! You can always sell toner cartridges to us if you do not need it anymore.
Related: Do Ink Cartridges Expire?
Which Printer Do I Need — Inkjet or Laserjet?
The answer depends on what type of printing you do.
Inkjets are better for printing certain high-quality photos and graphics as well as printing on fabrics and transparencies.
Commercial inkjet printers are used in product packaging.
But, for the most part, toner based printers can do anything inkjet printers can, and do it cheaper.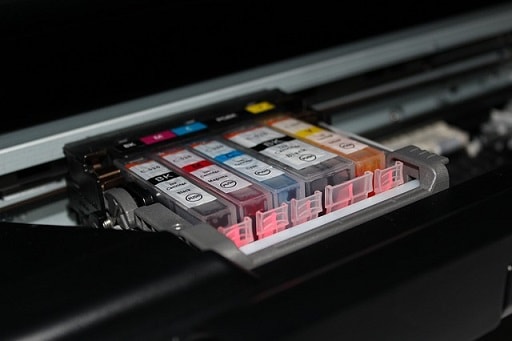 Although laser printers can do almost anything that inkjet printers can, the latter performs better when it comes to high-quality photo and graphic printing.
Inkjet printers may be the more popular choice in homes and small offices because of their lower price points.
But replacement inkjet cartridges are costly, especially brand-name ink cartridges.
Should I Get A Black-And-White Or A Color Printer?
Again, the answer depends on your printing needs.
Nothing beats a monochrome laser printer for cranking out high-quality, low-cost black-and-white pages.
On the other hand, it is also hard to beat the quality of a photo printed on a high-end inkjet and photo paper.
Back in the old days, inkjets were known for delivering bright splashes of vibrant color while laser printers were known for producing black-and-white text.
But advances in laser technology have brought down the prices of machines while improving the quality of graphics.
The type of printing you do determines whether you'll need an inkjet printer or a laser printer.
If you demand high-quality graphics and photo prints, go with an inkjet.
Otherwise, a laser printer offers a better overall value.
Ink vs Toner – Additional Information:
In this section, we tried to answer the questions that are too small to form separate sections, but might still be interesting for our readers to know.
So, we decided to address them here in a small FAQ format.
Toner vs Cartridge
Toner is the dry powder that gets turned into text and images on a laser printer.
The cartridge is the plastic (and sometimes metal) casing the toner comes it.
Some companies sell loose toner along with instructions on how to refill an empty cartridge, but we don't recommend it.
Refilling a toner cartridge is messy work and the printouts are of low quality.
What is a Toner Cartridge?
In simple words, toner cartridge is a container where toner is usually placed.
Toner cartridges are generally the width of your toner based printer, and will have an automated flap were the dry toner is drawn from the hopper using an electrostatic charge.
The negatively charged toner particles stick to a positively charged image projected on the paper.
Toner is permanently fused to the paper using heat and pressure.
Toner cartridges are usually made of hard plastic with metal components.
Some toner cartridges will have a small electronic chip or circuit board attached to communicate with the printer.
We want to make this page as informative and helpful as possible – a single place where you can find answers to all your questions on this specific topic (toner vs ink).
So, if you have any additional question that is not answered here, please let us know, and we'll try to cover it and add to the page as soon as possible.