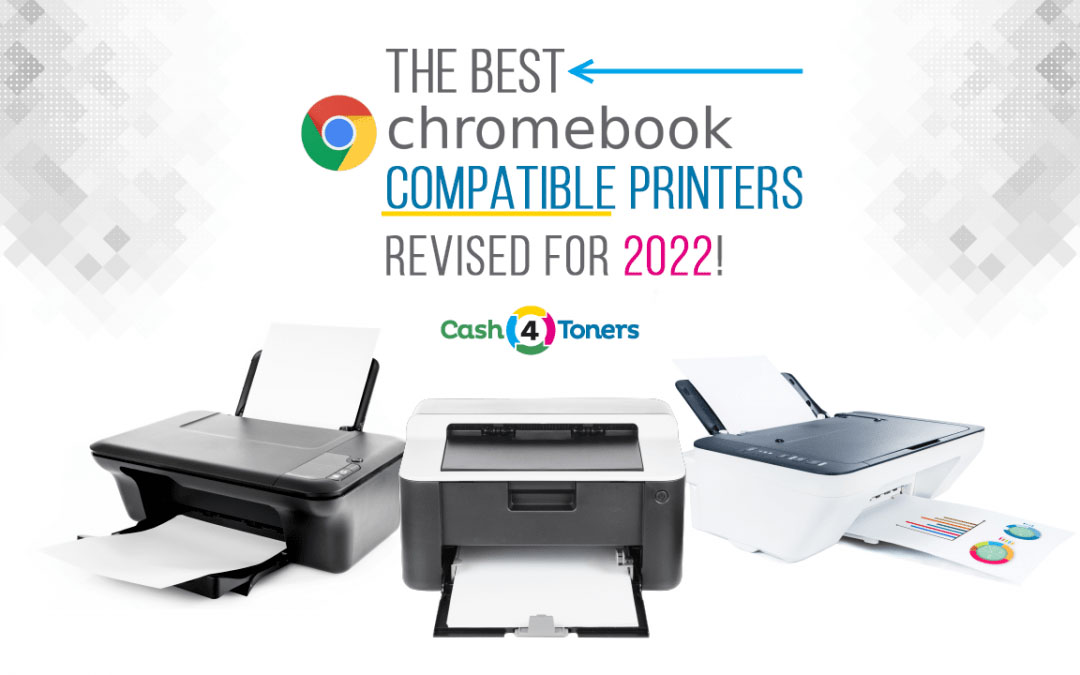 If you own or work on a Chromebook, you need to know the best Chromebook printers for 2023!
The Best Chromebook Compatible Printers 2023 (Updated!)
What printers are compatible with Chromebook?
Check with your printer manufacturer's website for potential updates that allow Chromebook printing. Chrome OS printers have come a long way toward simplifying wireless printing with a Chromebook.
---
Here are our favorite Chromebook compatible printers of 2022:
HP DeskJet 4133e

The HP DeskJet 4133e is a wireless all-in-one that offers power on a budget!

Get the Deskjet 4133e on your Chromebook's wireless network, and you'll be a printing powerhouse!



Epson EcoTank ET-4850
 
This wireless all-in-one cartridge-free super-tank inkjet can turn your Chromebook into a personal print shop!

The Epson EcoTank ET-4850 uses high-capacity refillable ink tanks to lower your print costs.

Brother MFC-J4335DW INKvestmnet Tank printer

Print, scan, fax, and copy with Brother's MFC-J4335DW INKvestment Tank printer.

It not only works great with your Chromebook, but the J4335DW can also connect to your Alexa!

You can find genuine Brother INKvestment ink cartridges here!


Canon TR150 Mobile Wireless printer

Take your Chromebook printer with you with the Canon TR150 Mobile Printer.

Optional battery sold separately.

Get the best price on genuine Canon ink here!



HP OfficeJet Pro 9015e

This compact all-in-one inkjet can print 22 pages per minute.

It also features automatic duplex (two-sided) copying and scanning and a 35-page automatic document feeder.

Get the lowest price on genuine HP ink for your HP 9015e!


Chromebooks on COVID's Front Lines
Chromebooks are computers for everyone…except when you need to print.
Printing from a Chromebook can be a real pain in a**!
Google made it easier for a time with its Cloud Print Service, but the company recently announced it would no longer support Google Cloud Print after December 31, 2020.
What's a Chromebook user to do?
You have two options:
1) set up CUPS for printing to local and network printers, or
2) use one of Google's third-party "printing partners" to manage your print needs.
We'll go into both options below.
While we're sad to see Google Cloud Print go, CUPS is a more universally accepted UNIX-based printing system, which widens the field of choice for Chromebook compatible printers.
Now, almost any new printer is compatible with your Chromebook!
Enter The King Of CUPS
CUPS is an acronym for Common UNIX Printing System.
CUPS uses Internet Printing Protocol (IPP) to connect with local and local network printers.
Google hopes CUPS will replace its Google Cloud Print Service.
According to the Googs, when you open your Chrome settings and add a printer, the CUPS protocol should automatically find local and network printers and add them to the list of Chrome printers.
Simply select your printer and start printing — no additional setup needed! Easy-peasy!
The Google reach is broad and deep, and printer manufacturers have stepped up to meet the demands of Chromebook users, offering a slew of devices and printers for Chromebooks.
A variety of 2022 printer models make a good match for the ubiquitous Chromebook.
With the right printer, Chromebook printing is as easy as Ctrl+P!
Printers for Chromebooks and printers that work with Chromebook are awesome!
Don't forget to cash out your leftover toner and ink cartridges with a reliable toner buyer.
Setting Up CUPS
On Chrome devices, simply go to your settings and select print. Available printers should automatically appear.
Like Google Cloud Print, you can use the Admin Console to manage your printers and users. The Admin Console will allow you to set:
User-printing defaults for two-sided and color printing.
User account and file name in the IPP header of the print job included over a secure IPPS connection. This enables third-party printing features, such as secure printing and print-usage tracking.
Set-up of advanced printing attributes (stapling, paper trays, pin printing).
PIN-code printing management. This allows users to enter a PIN when sending a print job and release the print job for printing when they enter a PIN on the printer.
Extension APIs for third-parties to access print job metadata and submit print jobs.
According to Google, the Admin Console will soon allow support for external CUPS print servers, including authentication.
Additional future upgrades include a policy to configure connections to external CUPS print servers, and APIs to provide printer-management capabilities.
Using A Print Partner
In addition to (or instead of) using CUPS to print from your Chromebook, you can also follow the links below to learn more about Google's printing partners.
You can set up printing with a printing partner through the Admin Console.
Turn Google Cloud Printing off by accessing Chrome's settings.
Depending on your circumstance, you may need to ask a server administrator to turn off Google Cloud Print.
Will This Printer Work With My Chromebook?
How do you check whether a printer/MFP is supported by Chrome OS native print?
You can check out this super helpful Google doc written by Terrence Silk which walks you through the steps.