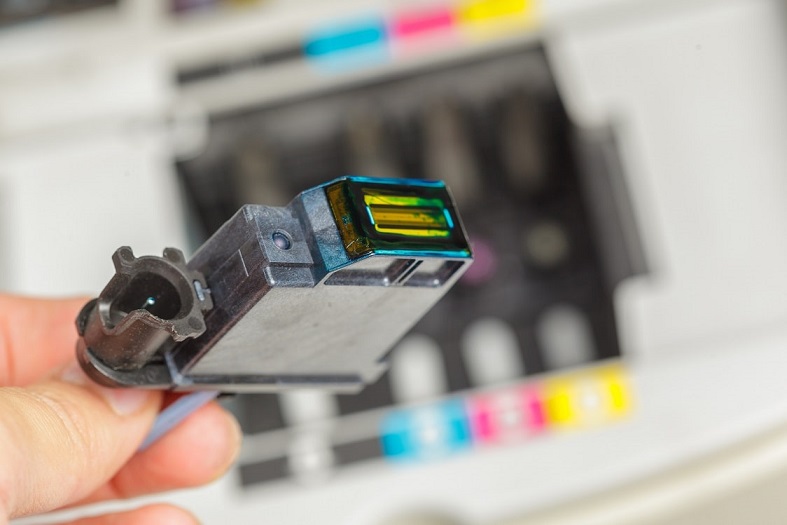 It's a fact jack: Sometimes ink cartridges stop working even when they've still got ink left inside.
Worse yet, when one color quits working the entire inkjet shuts down, even if you only need black text. Arrgh!
Fear not, printer warrior.
We'll show you how to handle a pesky printer ink cartridge, regardless of brand and model. Read on
How To Reset Ink Cartridge
Psst! Want to know the secret to resetting the chip on an ink cartridge?
Here's how to reset ink cartridges, regardless of brand.
Locate the chip. It's a tiny green circuit board about the quarter of the size of a postage stamp. They are often located on the front or bottom of your printer cartridge.
Bend a paperclip. You know the trick. You've been bending paper clips to solve computer problems since the days of floppy disks! In case you don't know, simply find a sturdy paper clip and bend one leg out straight. This makes a perfect "poker" for getting inside those tiny buttons and eject ports that can be found on nearly all modern electronics. The stiff wire of a bent paperclip is perfect for resetting the chip on your ink cartridge.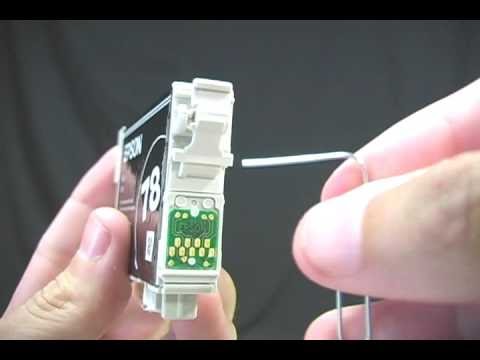 Press the tiny reset button located beside the chip and hold for 10 seconds. Depending on the brand and model of the cartridge, you may not need to hold the button for 10 seconds, but it won't harm the cartridge so do it anyway just to be safe.
Done. Replace the ink cartridge in your printer and check the ink level monitor. It should read 100% full.
So now you know how…but why?
What are these weird green things and what do they do? 
The answers to these questions and more lie ahead.
Low Ink and Ink Level Basics
Most printer models use ink cartridges that have a chip built into them.
This chip monitors the ink level inside the cartridge.
But the memory of these chips are notoriously not very accurate.
This is why you will sometimes get an error message that says you are out even when there is printer ink remaining. 
When your ink is low, you will see a warning indicator light on the printer's LCD screen.
In some cases, printing activities may stop if the cartridge is empty.
You will need to turn the printer's power off, remove the empty, and replace it.
Once the cartridge is replaced with fresh ink, you can restore your printer's power, turn the machine on, and resume printing.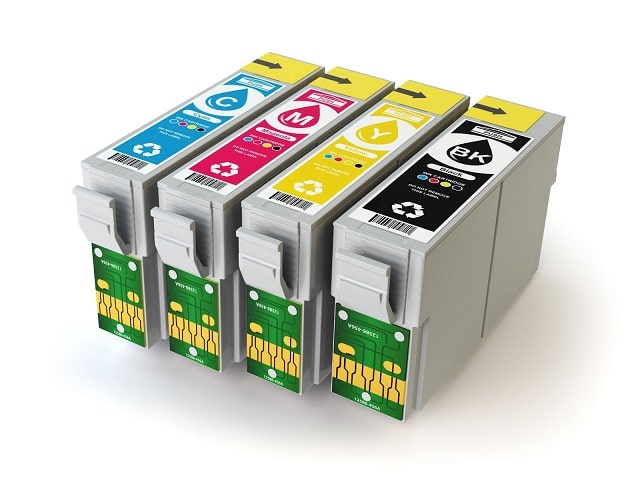 What An Ink Cartridge Chip Does
The chip serves a couple of functions.
It tells the printer what color ink is printing and verifies that it is a usable cartridge. 
If you're an inkjet printer owner, you may want to consider resetting your ink cartridges whenever you get low ink warnings.
Clearing the memory can give you a more accurate idea of your printer's ink levels, the number of pages still available to print, and other valuable printing information.
You want your ink level monitor to be correct.
You wouldn't drive a car with a faulty gas indicator gauge. That's an error in judgment!
Don't make the same mistake with your printer's ink levels. (If you stain your hands or clothes while refilling, turn that frown upside down! Here's how to clean up!)
Hey, Where's That Button?
Just above the circuit board on most printer cartridges, you'll find a small button.
You've seen these tiny buttons before on cell phones, phone chargers, etc.
This is your reset button, and the only way to get in there is either with a paper clip or the tip of a pen (which will leave a tiny ink smudge on the button).
In addition, keep your printer well maintained for best printing results.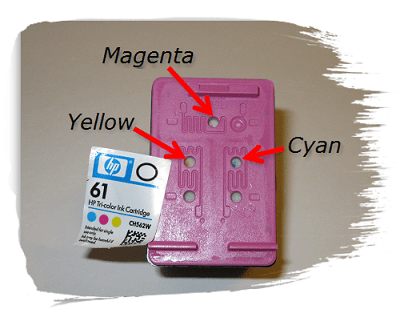 Using A Chip Resetter For Epson and Others
Some ink cartridge chips must be reset electronically.
Many third-party companies sell electronic chip resetters. You can buy third-party ink cartridge resetters for almost any ink cartridge.
This allows you to refill these cartridges and reuse them in your printer. 
If you buy a resetter for your ink cartridges, we suggest a USB-powered model.
Some of the battery-powered models may not have enough voltage to fully reset your cartridge, whereas you'll never have to worry about a power supply if you have a USB-powered resetter.
Chip technology today has become much more advanced.
Print manufacturers do not want you to refill your cartridges — they want you to buy new ones from them.
Therefore they've designed chips that are individually coded for each printer. 
This does not allow you to reuse the same cartridge in your printer even if you refill it and reset it.
The printer will not recognize a chip that has been previously used.
This is true for several models of Epson photo printers.
Unlike Epson printers, however, Canon photo printers allow you to refill the ink and reset the cartridges.
Resetting Epson Ink Cartridges
Many Epson chips can be reset using a software-based resetter. Bonus — many are free to download! Once reset, your printer thinks the ink is full.
Once you open a software-based resetter, prompts on-screen will walk you through the steps to reset your Epson cartridges.
Some Epson cartridge resetters are physical devices that you actually insert the cartridge into and they electronically reset the chip.
You can pick up a resetter for Epson and other brands online for between five and $20.
There are different receptors for different printers, so make sure you shop around and use your correct model number. 
To use a physical chip resetter, simply press the four contacts on the chip against the contacts on the resetter.
On most receptors, a light will flash and then go solid green letting you know the reset is complete.
Pop that cartridge back in your Epson and check your ink levels.
If all goes well, they should show 100% full!
How To Reset Epson Ink Cartridge Chip Without Resetter
Hey, you can reset Epson ink cartridge without resetter!
As shown above, you can reset Epson chips by pressing and holding the button above the chip with a bent paper clip for 10 seconds.
Resetting HP Ink Cartridges
HP printers are famous for refusing to accept third-party cartridges. But there are workarounds.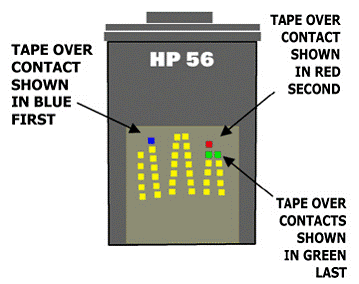 The contacts on an HP chip are strange.
They lean towards each other like that tower in Pisa, almost touching towards the top.
Regardless, locating the contacts that control the color ink level settings is fairly easy.
After refilling your cartridge, cover the blue ink level contact with a small piece of tape.
This is the uppermost contact atop the second column of contacts from the left.
Put the cartridge in, let the printer read it, then take it out again. 
Move the tape from the blue contact to the red contact.
Take a small piece of adhesive tape and cover the red contact. This is the uppermost contact on the second column from the right.
Make sure the tape only covers the surface of the contact (the tiny copper square you'll find on the green circuit board).
Insert, read, and remove the cartridge as before. 
Repeat this process with the two green ink level contacts located just below the red contact and beside it, atop the first column on the right. (These contacts are in green in the diagram above.)
Check your ink levels after the printer is allowed to run through its cycle again. They should be 100% full.
How To Bypass HPs "Used or Counterfeit Printer Cartridge" Error
Did you ever get a flashing "Used or Counterfeit Printer Cartridge" message on your HP inkjet following a compatible cartridge install?
Yeah, we hate that. As already mentioned above, HP inkjets are famous for refusing to accept third-party cartridges.
However, here's how to bypass that flashing message.
In the Windows operating system:
Open Devices and Printers
Select the active printer
Click on HP Printer System
Click the Maintain Your Printer tab
Click the HP Cartridge Protection tab
Click off the Disable HP Cartridge Protection button
Click ok to save settings
Resetting HP Toners
You can reset your HP laser printer toner cartridge too.
Sometimes laser printers report low or empty toners sooner than they have to. 
In fact, your old laser printer cartridge might still have some powdery pigment inside of it.
If the toner cartridge feels heavy when you take it out, you may not be due for a refill just yet.
Try an ink-saving mode. Most HP printers will prompt you to switch to low-toner prints once they detect low toner levels.
Shake your cartridge. The first thing you should try with an HP LaserJet cartridge that's supposedly empty. This old-school trick will free up the toner particles that are stuck to the inside walls and nooks. After you mount it back to your printer, it may register it as full. You may need to deactivate the ink-saving mode for the printer to detect toner levels properly.
Due to HP's clever 128-bit encryption, page number resetters for HP toners are nearly non-existent. 
However, if it turns out your HP laser printer needs a refill, you can bypass HP's smart OEM toner detection.  
Turn off toner level monitoring on the printer. This will allow you to use a refilled toner despite the chip reporting it as empty.
Install an HP chip to a replacement cartridge. This requires some fine motor skills and good tools. You'll also possibly need to turn off toner level monitoring on the printer.
Get an aftermarket chip for a refilled cartridge. The majority of modern HP toner cartridges are equipped with a small chip that communicates toner levels to the printer.
As already mentioned above, HP cartridges come with a clever encryption that doesn't allow page resetting.
That means that you'll need to do a lot of handiwork to get a refilled or off-brand toner to work in your LaserJet printer. 
In the case of HP JetIntelligence toners like HP 414A, refilling and resetting the cartridge might not be worth your while.
Consider getting OEM toner instead.
Resetting Canon Ink Cartridges
Canon printers have thermal printheads. The ink actually cools the print heads down, and if you run empty cartridges the print heads can overheat and get damaged.
There's a trick we've seen that could help here.
But you will need four OEM Canon cartridges — filled or empty — to pull this trick off. 
Canon printers can only remember four different chip serial numbers.
So, if you replace and remove the four Canon cartridges, and, on the fifth attempt, install a newly refilled cartridge, the printer should accept the cartridge, and ink levels should read as full.
If you get Error 5200 on your Canon printer you can try some of our other solutions.
How to Reset Canon Pixma Ink Cartridge
In many cases, you can press and hold the "ok" or "resume" button on the front of the printer for about 10 seconds.
This prompts resetting Canon ink cartridge and should allow you to continue printing.
How to Reset Samsung Toner Chip
There is a strange situation going on with the drum units inside Samsung laser printers.
The drum units are "programmed to fail" and stop working after a certain number of pages.
You can get a little more life out of your drum unit — and get rid of that error message — by resetting the chip on the end of the drum unit.
Behind that chip are two resistors — a flimsy 56K ohm and a meaty 200K ohm.
Replace the 56K ohm resistor and the printer will see the drum as new and restore the page count back to zero.
How To Reset Brother Ink Cartridge Chip
When you get the big red "X" on the LCD display of your Brother printer it means it's time to replace the cartridge.
Or, you can refill and reset the chip.
You can use a chip resetter to reset the chips and buy your non-OEM ink from a reliable distributor.
Also, Brother printers will sometimes tell you the ink is empty when you can clearly see liquid left in the cartridges.
These cartridges have a little clear node on the front.
The printer uses a sensor to look for ink inside this clear nodule.
If it doesn't see ink it will give you an empty ink cartridge message.
The quick fix is to simply cover that sensor with a piece of black electrical tape.
The printer's sensor sees a solid color and reads 100% full ink!
How To Reset Lexmark Ink Cartridge Chip
First, open the printer's access cover and wait for the ink cartridge carriage to come to a stop.
Install the new ink cartridge and close the printer's access door. 
Second, wait for the printer's ink monitoring software to detect the new ink cartridge.
You'll get an error message warning you the cartridge is not a genuine OEM Lexmark cartridge.
Next, click on the option on the ink monitoring software that lets you proceed.
Another warning will pop up on the printer's screen detailing that you are using refilled or third-party cartridges and may void the printer's warranty.
No worries. Click ok and proceed.
Each time you install a refilled or third-party cartridge you will need to follow the on-screen instructions to disable the Lexmark ink monitoring software.
Remember, since the monitoring software is not functioning it will not know your ink levels. Don't run dry!
Show Your Printer Who's The Boss With A Hard Restart!
Sometimes you have to get physical.
Perform a hard restart by unplugging the power cord from your printer.
Press and hold the printer's start button for at least 10 seconds to reset your printer.
Send a print job to the printer before you plug it back in.
Once the print job has been sent to the machine, plug it back in and your printer should override the ink cartridge settings. 
Conversely, you can select and hold the power button which will restart your printer.
Cash Out Your Surplus Office Supplies
At some point you're going to find yourself with extra ink and/or toner cartridges.
Maybe you got a new printer and you're stuck with leftover supplies.
Maybe you ordered the wrong printer cartridges and forgot to return them.
Either way, you can turn your extra printing supplies into cash with Cash 4 Toners. Visit us online…we want your leftover ink and toner cartridges!