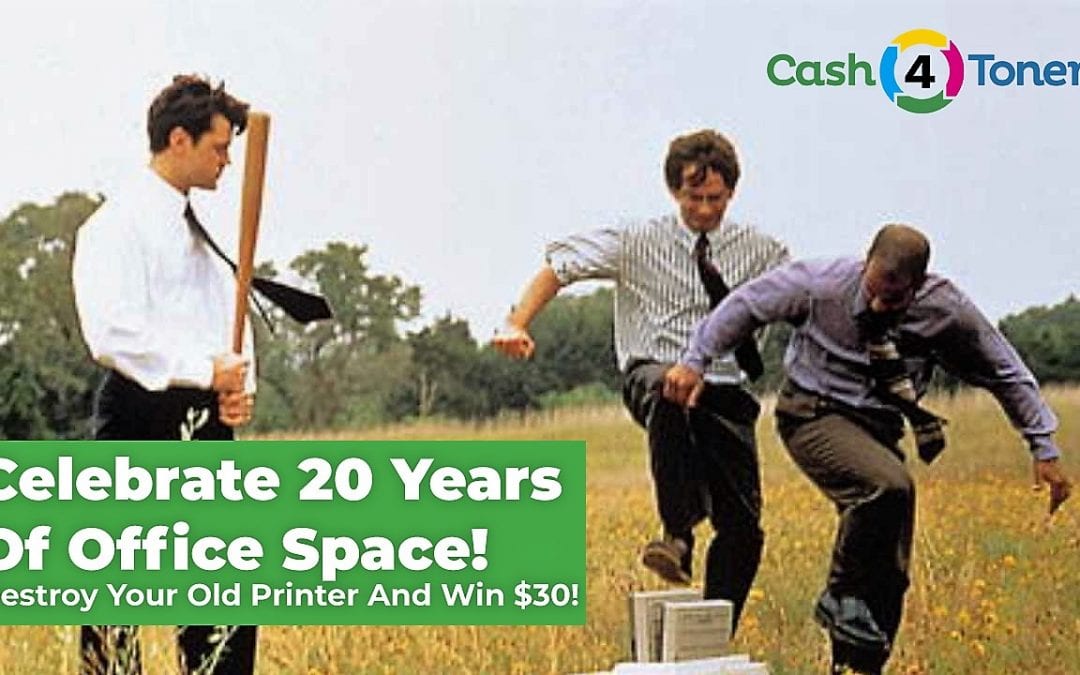 Smash your printer and win $30!
In honor of the 20th anniversary of the beloved film Office Space, and its iconic printer destruction scene, Cash4Toners wants to give you cash for your best printer destruction video!
Unleash your inner office geek, smash that clunky old printer, and Cash4Toners will send you a $30 Visa Gift Card!
Smash Your Printer, Win $30
Share your printer destruction video on Facebook, Instagram, or Twitter by April 30, 2019. Make sure your profile is public so we can all see it!
Tag it #Smash4Cash and #Cash4Toners
Drop us a line at selltoner@cash4toners.com
We'll send you a $30 Visa Gift Card! (Limited to the first 300 participants. Limit one per person.)
Wait…Don't Forget The Toner!
The first thing you should do when your printer dies unexpectedly is get rid of your old supplies.
Get cash for your toner cartridges! Not only is this an important part of the grieving process, but you can put cash in your pocket by selling those unused, surplus toner cartridges.
Especially ink cartridges! Those things have a pretty short shelf life, so sell them to a buyback company before they're worthless!
Before you buy a new printer, sell your surplus toner from your old printer.
Now, get ready to smash your printer and win $30!
Smash And Trash…No, Recycle!
As much as we love a good printer smash video, we love saving the earth more!
Once you're done trashing your old printer, find a place to properly recycle that mess.
Your township or municipality probably has a scheduled electronic waste collection pick-up or disposal center . . . check your town website or the notices at city hall.
According to Consumer Reports, an United Nations study reported that 44.7 million tons of e-waste were discarded in 2016, and only 20 percent of it was disposed of properly.
So far, 25 states have passed laws requiring people to recycle old electronics.
But no matter where you live, there are safe methods for disposing of electronic waste.
You can find the nearest e-waste recycling facility using this clickable map from the Telecommunications Industry Association.
The United States Environmental Protection Agency provides these additional e-waste recycling resources.
Recycling Pros
There are local facilities in your area that specialize in recycling computer peripherals.
They might charge a small fee for the service, but professionals will safely remove any toxic items from the printer, and recycle every possible part.
The environmental impact of improperly disposing of printers is substantial, reports the European Printing Ink Association.
Give To The Cause
You may also be able to donate your dead printer to charity.
Some facilities collect, repair and donate printers to nonprofit organizations and other institutions.
In return, you get a tax write-off, and your old printer doesn't end up in a landfill. You don't want your ink and toner cartridges ending up in landfills either.
Don't Toss Out The Toner (Or Ink)!
Currently, more than 375 million empty ink and toner cartridges are thrown in the trash each year.
This is a staggering number, especially when we now know that a single cartridge thrown into a landfill can take up to a hundred years or more to fully decompose.
Diverting toner cartridges from the landfills is extremely important to our environment since they are a major contributor to electronic waste, which is one of the fastest growing forms of waste.
Nearly 100% of the materials used to manufacture ink and toner cartridges can be recycled and reused, which in turn greatly reduces the pollutants and toxins that would be released into the environment if these items were left as waste in local landfills.
Approximately one gallon of oil is utilized in the production of a new laser cartridge.
By recycling toner cartridges, we are in fact saving millions of gallons of oil.
Additional Disposal Options
Most printer manufacturers — including HP, Epson, and Canon — have their own recycling programs. Below are other options for proper printer disposal: