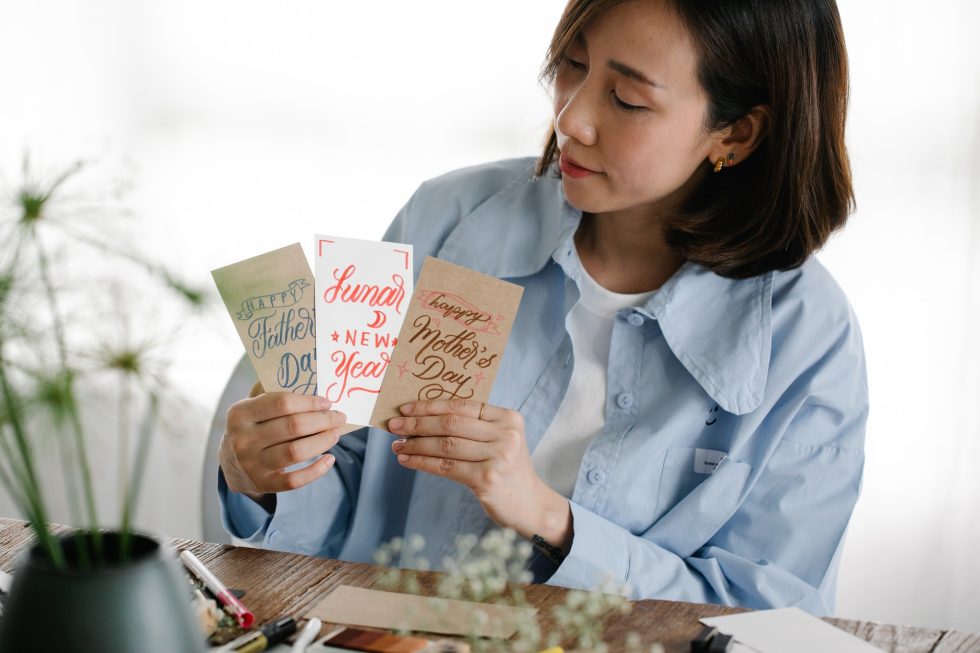 Whether you are a hobbyist or require cardstock printing for work, the ability to do it yourself without the need for professional printing services can save a lot of money.
However, to successfully print on cardstock, you need to find the best printer that suits your situation.
So let us take you through the options when it comes to the best printers for cardstock.
We'll also discuss what a printer needs to be able to print on cardstock, the best alternatives for cardstock printers on a budget, and the best printer for heavy cardstock.
If you like to print stickers check our short guide.
Can You Print On Cardstock at Home?
So, can you put cardstock in a printer? The answer is it depends on the printer model you have.
You need a printer capable of handling:
The greater thickness and weight of cardstock compared to traditional paper
Feeding the thicker cardstock through the printhead without damaging it
Transferring the ink such that it is quickly absorbed without smudging
The first thing to do is check the specifications (sometimes called product documentation) of the printer and find its supported weight range for paper (or media).
Check the weight of your cardstock falls within the compatible range for your printer.
How is Paper Weight Measured?
Paper weight is measured in pounds (lb), which refers to the weight of 500 sheets in their uncut form (basic sheet size varies depending on paper grade: book, bond, etc.).
For example, standard office copy paper will weigh around 20 lb, whereas cardstock is thicker and therefore heavier with typical weights in the 65 to 110 lb range.
The printer's feeding system will also determine if you can use cardstock with it.
Bottom or front-feed trays move the paper through tight spaces and flip it over, potentially causing damage to thicker cardstock – the best printers for cardstock use a rear-feed or top-loading tray (example on the image below).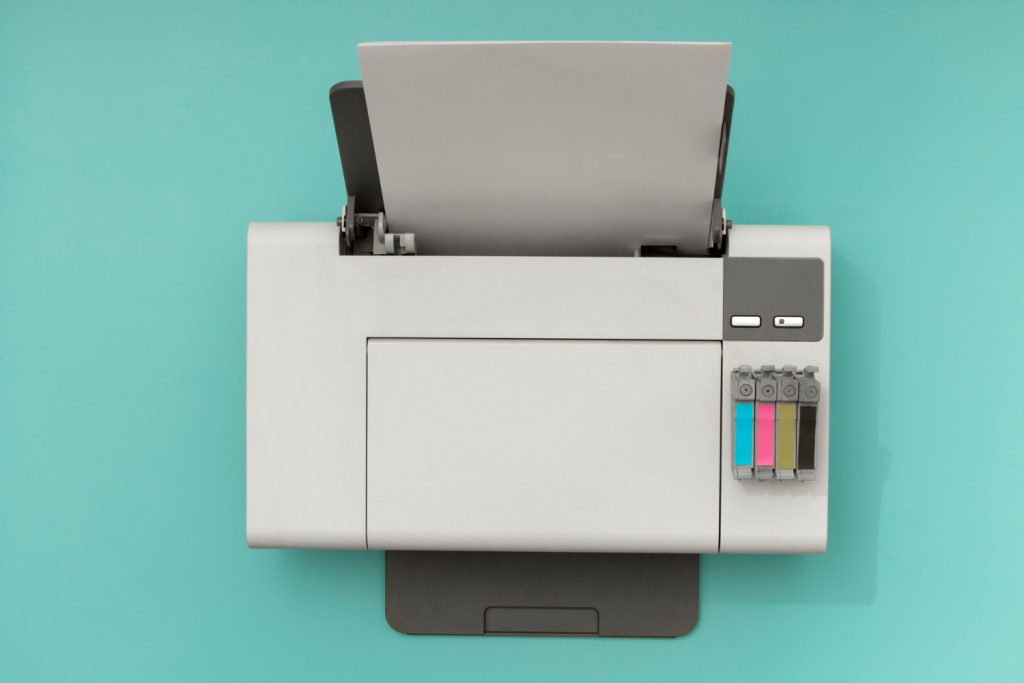 It is possible to hand-feed sheets of cardstock into printers; however, this is only really practical for small print volumes.
Finally, it is vital to have a printer that works with the broad range of textures and finishes found in cardstock, such as:
Gloss
Semi-gloss
Cotton
Linen
Matte
The technology used to transfer ink to the page will determine how it works with different textures.
When testing printers that print on cardstock, it is essential to find an option that produces high-quality finishes and crisp/clean graphics without smudging, no matter the cardstock texture.
Best Printers for Cardstock
There is a range of options when it comes to the best cardstock printers.
We've compiled a list of models for you to consider, along with their pros and cons for cardstock printing, so you'll have all the information required to choose what works best for you.
Canon Pixma TS9521C
Canon designed the TS9521C All-In-One Wireless Crafting Photo Printer specifically for people interested in arts and crafts.
It allows users to print on all types of media, including card stock.
It even has convenient presets for crafting and specially designed software to simplify printing greeting cards, scrapbooks, and more.
The TS9521C is compatible with cardstock up to 74 lb and has a print resolution of up to 4800 x 1200 dpi. With a manufacturer's suggested retail price (MSRP) of $289.99, the Canon TS9521C is one of the best printers for printing on cardstock.
Cardstock Pros:
Absorbent inkjet printhead
Front and rear feeding systems
Capable of small printouts down to 3.5 x 3.5"
Cardstock Cons:
Long warmup time
Uses a lot of ink
Not compatible with higher weight cardstock
HP OfficeJet Pro 9015
The HP OfficeJet Pro 9015 is an excellent printer for cardstock and is compatible with cardstock weights up to 110 lb. 
It offers 4800 x 1200 dpi color resolution across a range of cardstock finishes, with excellent ink absorption.
In addition, its dual-sided paper feeding system makes it simple for cardstock printing on both sides, ideal for brochures and folded cards.
A fantastic option for cardstock printing, the HP OfficeJet Pro 9015 is available for around $229.99.
Cardstock Pros:
Excellent ink absorption for a range of cardstock textures
Suitable for large volumes with a high print speed (up to 22 ppm)
Dual-sided paper feeding system
Print up to 110 lb cardstock
Cardstock Cons:
Canon Pixma iX6820
The Canon Pixma iX6820 can produce printouts with an exceptional 9600 x 2400 dpi resolution across a wide range of compatible media.
The model feels designed for cardstock printing with a rear feeding system, a library of templates, and creative software to help you personalize your printouts.
Plus, the iX6820 is compatible with custom large-size sheets up to 13 x 19".
The only downside is the cap on cardstock paper weights it is compatible with (70 lb).
A cardstock printer capable of stunning, high-resolution printouts, you can purchase the Canon Pixma iX6820 at prices around $329.
Cardstock Pros:
High resolution (9600 x 2400 dpi)
Library of templates and intuitive software to design your own
Compatible with large custom size sheets
Cardstock Cons:
Only capable of cardstock printing up to 70 lb
Epson Expression Photo HD XP-15000
The best cardstock printer for bigger media is the Epson Expression Photo HD XP-1500.
A special tray specially designed for large size paper seamlessly allows you to produce 13 x 19" borderless prints on thick cardstock, up to 140 lb.
In addition, the model offers up to 5760 x 1440 dpi resolution with a high-quality Claria Photo HD ink system, so you get great images free of smudging and streaking.
One of the best printers for heavy cardstock and large media, the Epson Expression Photo HD XP-1500 will cost you around $349.99.
Cardstock Pros:
Designed for larger media
Compatible with heavy cardstock (up to 140 lb)
Cardstock Cons:
No automatic double-sided features
Best Printer for Heavy Cardstock
Canon Pixma Pro 100
Another printer for 110 lb cardstock and above is the Canon Pixma Pro 100.
The model has a rear tray capable of printing on 200 lb cardstock and a specially designed manual feed system compatible with cardstock up to 236 lb, or a thickness of 0.6mm.
The Pro 100 is compatible with larger media (up to 13 x 19"). In addition, it has an eight ink cartridge system with 6,144 nozzles that can produce detailed images on cardstock (perfect for printing photos).
While the Canon Pixma Pro 100 is one of the best printers for 110 lb cardstock and above, it is more expensive than the other printers we've discussed today, costing up to $1000.
Cardstock Pros:
Compatible heavy/thick cardstock
Dedicated manual feed system for heavy media
Cardstock Cons:
Higher price
Expensive ink
Best Budget Printer for Cardstock (Color)
HP OfficeJet 3830
If you're looking for the best printer for cardstock on a budget, you can't go wrong with the HP OfficeJet 3830.
You can pick up the 3830 model for around $100, and it packs plenty of performance for that price point with 4800 x 1200 dpi resolution and the ability to print on cardstock up to 110 lb.
The ink absorption is reasonably good even on cardstock with a glossy finish, and with its small size, it fits perfectly in any home office.
Cardstock Pros:
Large compatible weight range (up to 110 lb)
Small size
Low price
Cardstock Cons:
Slow print speed (maximum of 8.5 ppm)
Best performance requires purchasing HP cardstock
Higher price ink cartridges
Summary
If you're making your own greeting cards party decorations or need a cardstock printer for work, there are plenty of options out there.
But whether your focus is on cardstock weight range, print quality, speed, or price, we're confident our list of the best printers for cardstock will contain the model right for you.
Further reading:
Sources

https://support.usa.canon.com/kb/index?page=content&id=ART171181
https://www.usa.canon.com/internet/portal/us/home/products/details/printers/crafting-printers/pixma-ts9521c
https://support.hp.com/gb-en/document/c06237484
https://www.canon.co.uk/printers/inkjet/pixma/pixma_ix6850/specification.html
https://sg.canon/en/consumer/pixma-pro-100/specification?category=&subCategory=
https://www.hp.com/us-en/shop/tech-takes/hp-officejet-3830-review