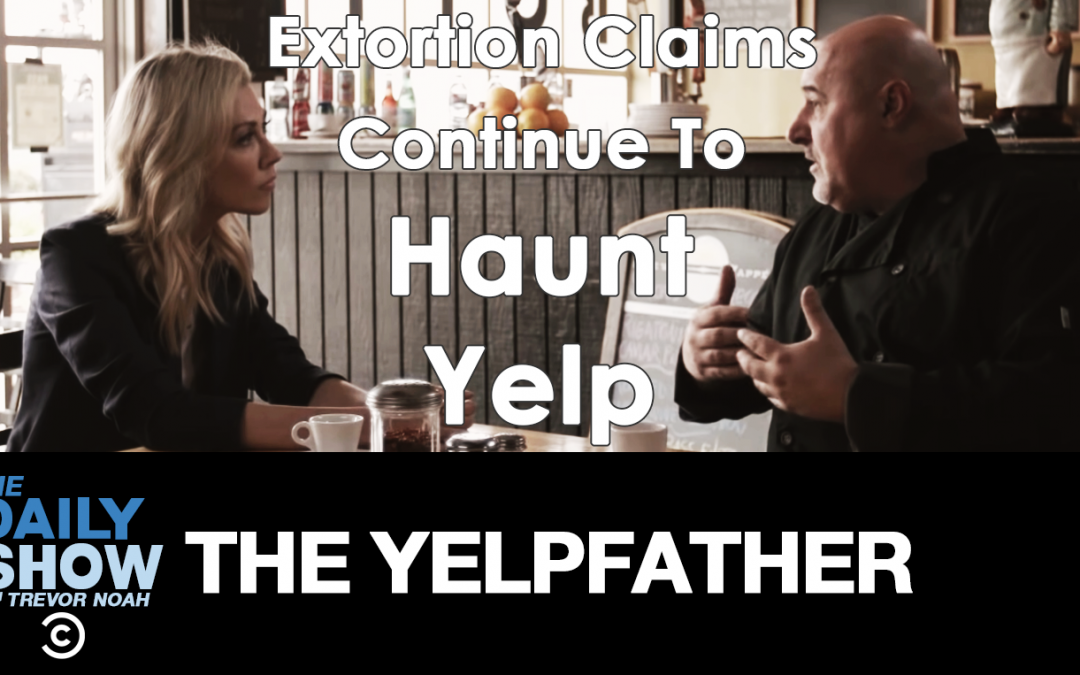 Despite legal wins, extortion claims still haunt Yelp. Trevor Noah and the crew at The Daily Show are the latest to question the review site's business model.
The Daily Show recently featured a segment asking if Yelp's "recommendation filter" hurt small businesses by hiding five-star reviews.
Hey, didn't we write a blog about that exact same thing several months ago? (Yes, we did! We even wrote a follow-up about getting help from Yelp's Community Manager.)
Desi Lydic meets with a restaurant owner who claims Yelp extorts businesses. One of Yelp's community managers, (and former "Bachelor"), Ben Flajnik, defends the company's policies. 
Rumors Persist
The Daily Show is one of many media outlets, including Cash4Toners, that sense something is wrong with Yelp's policies.
For example, outlets as diverse as Reuters, The LA Times, and CNET have all questioned Yelp. Reports focus on Yelp's review filter, its aggressive sales team, or both.
Ultimately, the question comes up again and again—does Yelp bully and extort small business owners? 
So far, the United States legal system says no. Nearly a dozen lawsuits against Yelp have been tossed out or dismissed by American courts since the company formed in 2004.
Also, a judge denied a lawsuit earlier this year that accused Yelp of asking business owners to buy advertising in exchange for the removal of negative reviews. 
Conspiracies & Woozles
The Federal Trade Commission made it illegal to ban honest reviews, yet Yelp's review software appears to do exactly that.
Yelp has devoted an entire page on its website to defending itself against claims of extortion, bullying, and manipulation.
According to Yelp's site, "Sales calls + review software= misconceptions," calling the idea that Yelp extorts money from small businesses a "conspiracy theory," and a result of the internet's "Woozle effect."
"There has never been a connection between ratings or reviews on Yelp and buying advertising," Yelp reports.
"We recognize the difficulty business owners have running a business in today's 'feedback economy.' We believe Yelp provides a valuable service for business owners to market themselves based on the reputation they rightfully earn. We've pulled useful tips for them on how to do that effectively in Yelp's Guide to Success. Focus on doing what you do best: running a great business."
Still, the idea that Yelp pressures businesses into buying ads in order to make negative reviews go away, persists.