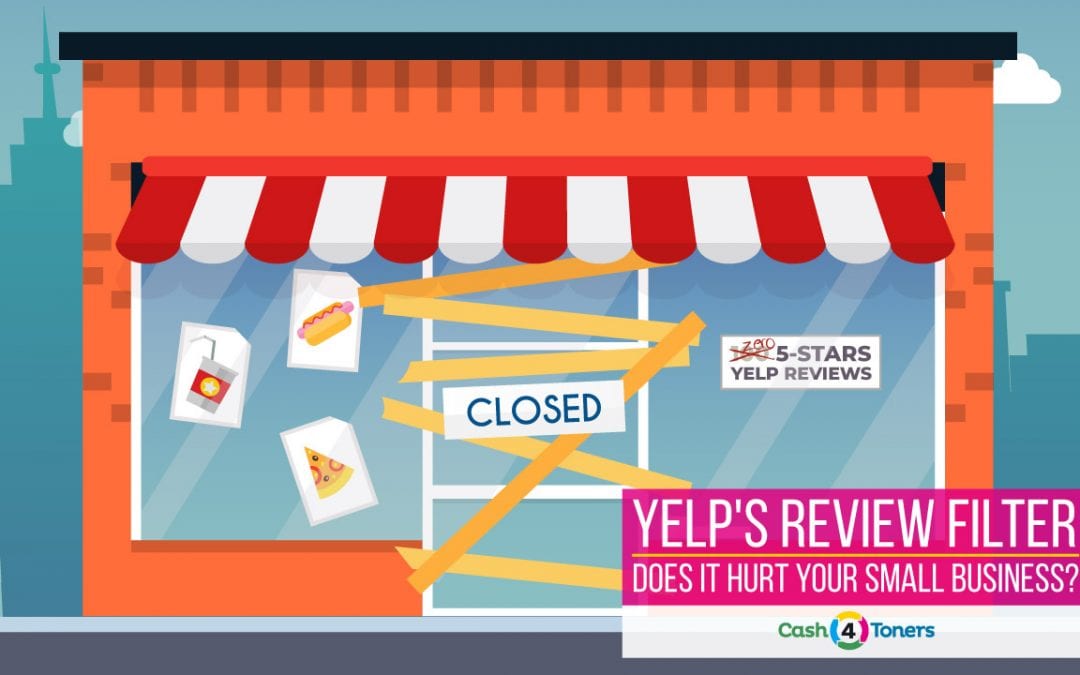 Yelp removes reviews it feels are fake or irrelevant with the help of an automated review filter.
But are small businesses hurt by hidden reviews?
Yelp's Review Filter
Yelp features customer reviews of local businesses. The website uses an algorithm-based filter in order to cull fake reviews, and feature content written by seasoned reviewers.
Many Yelp users claim real reviews were unjustly removed, however. Even more troublesome, filtered reviews remain at the top of a user's Yelp account.
As a result, many users are not even aware their reviews are gone. Even though Yelp has been cleared of wrongdoing in US courts, extortion claims continue to haunt the company.
Not Currently Recommended
Filtered reviews end up in Yelp's "other reviews that are not currently recommended" section. Customers and business owners alike feel the pinch of Yelp's funky filter.
"The filter is inconsistent and non-transparent," explains Sam Dirnfield, CEO of Toner Buzz.
"Yelp keeps the details secret, but it doesn't follow any order. Real customer reviews get removed. This doesn't happen on other platforms like Facebook or Google."
Yelp vs. Small Business
For example, California photographer Maxine Evans, found her "not recommended reviews" double from 50 to 100 last autumn.
"It took years of work to get these reviews," Evans said. "This is my livelihood".
Similarly, Yelp's filter crushed New Jersey real estate agent Steven Houghtaling.
"Yelp removed every one of my reviews," Houghtaling reports. "For two years I had the number-one rated business in my industry. Now I rank 45 with zero reviews. There should be a class action lawsuit against Yelp!"
Also, search engines often include Yelp ratings in results.
"Your Yelp rating is spread all over the world, regardless of which search engine you use," Dirnfeld notes.
Did You See A Ghost?
Yelp's review filter got a major update last October, according to this article from Search Engine Land.
SEL dubbed the update "Ghost," because reviews became "invisible" when moved to Yelp's hard-to-find "not recommended" section.
Search Engine Land studied 700 businesses, finding about 1-in-4 lost reviews. However, the lost reviews didn't affect overall Yelp ratings..
What Is The Yelp Automated Review Filter Thinking?
Mom-and-Pop shops certainly live and die by Yelp ratings. But how are ratings determined? Why does Yelp's favor some reviews over others?
Social media marketer Adryenn Ashley, founder the blog Yelp-sucks.com, says Yelp needs help.
"Yelp claims the filter is tweaked often. Some days you see positive reviews, some you don't," Ashley explains.
"I have seen Yelp's review filter work as intended. But I have also seen it not work more often than I feel comfortable attributing to chance."
How Yelp's Review Filter Works
Around ¾ of submitted reviews get approved, according to Yelp. Software checks for quality, reliability, and user activity. User reviews may be filtered for:
Failure to complete profiles
Lacking social sharing
Hailing from a remote IP address
Lacking connections with Yelp "friends"
"Yelp's software is built to highlight the most relevant content," explains Michael Targash, Yelp Community Manager in Reno, NV.
Trasgash points to industry studies to back his claim.
"The algorithm looks at many data points," Tragash explains. "It is always learning, so it's possible for reviews to move around. Given the complexity of the software, we can't say for certain why a specific review gets recommended or not."
Yelp For Business Owners
Many business owners say Yelp's filter makes them feel helpless.
But the best way to handle Yelp is to keep customers happy, according to Tragash,
"At the end of the day, when I speak with business owners about these reviews, my advice is always the same" Targash explains.
"Focus on providing a great product and consumer experience. Let your customers know how much you appreciate the love they've shared on Yelp, and encourage them to do the same for other local places they love."