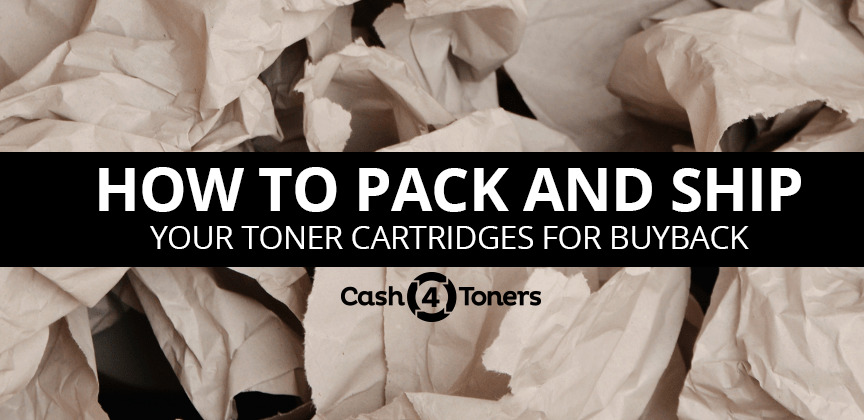 Congratulations! A toner buyer (hopefully Cash4Toners) wants to pay you money for your surplus toner cartridges. Whoot-whoot!
Can you pack and ship toner cartridges?
You sure can!
Shipping toner cartridges is easy once you know how. Let Cash 4 Toners show you how to ship toner cartridges the right way!
Keep It Simple, Sweetie
The best way to ship toner cartridges is to use the KISS method, (Keep It Simple…Sweetie). There are four basic steps:
Get the right box
Pack it tight
Add some padding
Seal it up good
Before You Pack and Ship Toner
1. Do not mark or write on your toner boxes. The condition of the original toner packaging is an important factor in toner re-sale.
2. Do not remove any labels or stickers from the toner packaging either. Doing so can lessen the value of your toner buy-back. Let the re-seller remove the stickers and labels if they want. You shouldn't.
Get The Right Box
Over-box. This means use more box than you need to make sure your toner cartridges arrive safely and in mint condition.
Double boxing your toner cartridges can also prevent moisture leaks inside your package. As you can imagine, moisture and toner don't mix.
While you don't need to make your shipping box watertight, make sure it's over-boxed and well-sealed with quality, two-inch packing tape.
Honestly, toner cartridges are one of the most well-protected products out there.
The cartridges basically float on a cozy cushion of air inside their boxes, sealed in airtight plastic toner cartridge packing roll, bubble wrap, or inflated packing tubes.
Shipping a toner cartridge is quite safe because they're packed so well.
However, if you're looking to sell surplus toner cartridges to a toner buyback company, the box your cartridge comes in is part of the product.
A dirty, dented, or torn box doesn't fetch as high a resale price as a box in like-new condition.
You need to pack your boxes of toner into another box to ship them safely and undamaged.
Can you pack and ship a toner cartridge in a padded envelope or plastic mailer?
Yes, but don't take the chance of damaging the original toner cartridge packaging box. Double-box your toner cartridges instead.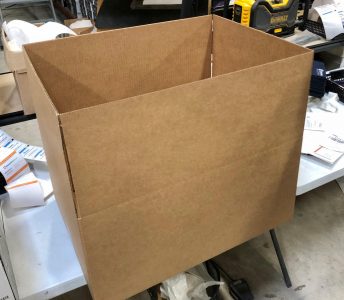 Boxing Day
Imagine your package tumbling down a conveyor belt or bouncing around the back of a delivery truck.
Pack your toner cartridges appropriately so they can withstand this kind of treatment.
You don't need to use a new box, but the box you use needs to be in good condition. No rips or tears, and no crushed corners.
"We get a ton of re-used Amazon boxes," reports Attila from Cash4Toners.
"Everybody gets stuff from Amazon. Re-using their boxes to ship toner cartridges is fine as long as the packages are well padded inside and sealed with tape on the outside." – he adds.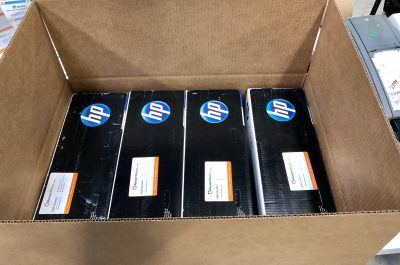 Weighing In
Shipping carriers have different weight limits for packages.
The United States Postal Service, for example, has a 70-pound weight limit on packages. FedEx and UPS limit package weight at 150-pounds.
However, your box of toner cartridges needs to come in way less than those limits.
We recommend keeping your packed box of toners under 40-pounds to avoid damaging the cartridges inside during shipment.
Pack It Tight
The key to getting the most money for your toner buyback is accurately reporting the product's condition (with photographs) and getting your toner cartridges to the buyer in the same condition they left your home or office.
If you want to get the most for your surplus toner, you need to understand the best way to pack and ship toner cartridges.
Get a box that your toners fit tightly in without too much empty space. Standard 20"x24"x12" packing boxes work well.
Smile For The Camera, Cartridge!
It's a good idea to take pictures of your toner cartridge boxes before you ship them.
This way you can prove the condition your toner boxes were in prior to shipping. Photo evidence comes in VERY handy if a future dispute should occur.
Add Some Padding
No matter how tightly your toners are packed into their shipping box, toss some packing material around the top, bottom, and sides anyway.
You can't be too careful, or too over-protective when it comes to packing toner cartridges for resale.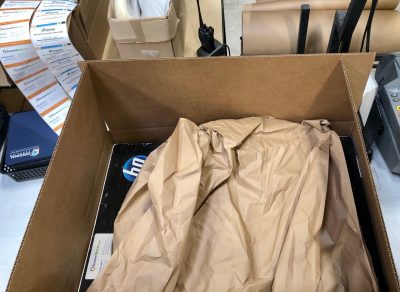 Seal It Up Good
Time to seal that box up and send it off.
DON'T FORGET TO PUT YOUR PACKING SLIP OR INVOICE IN THERE!
Depending on where you sell your surplus toner cartridges, you may not get paid unless you include the appropriate packing slip.
Even if there's an online record of your transaction, back it up with a paper copy of your invoice included in your shipping box. Keep a copy for your records.
Seal your big box-o-toners with quality, two-inch packing tape. Double-tape the middle seam and put a strip of tape along each open edge.
A properly packed and sealed box of toner cartridges is a happy box of toner cartridges.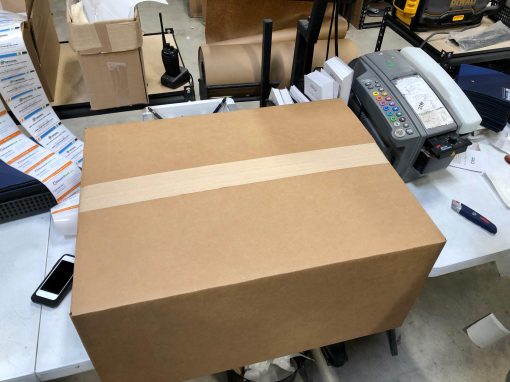 Savvy Shipping Labels
A good toner buy-back company will offer free shipping for your toner cartridges.
Often they will email a printable label that you can tape to the top of your shipping box.
Following the instructions as far as which carrier will handle your package: FedEx, UPS, or the USPS.
We use FedEx at Cash 4 Toners and rarely have a problem. Simply call FedEx to schedule a pickup once your package of toner cartridges are ready to ship.
Whichever carrier you ship with, make sure your package of toner cartridges has a tracking number.
Being able to track your package from door-to-door is an important part of reselling your toner cartridges.
A quality package handler will get your box of toners to the reseller in the same condition it left your home or office.
Now, get out from behind your desk and enjoy spending that surplus toner cash!
Further reading: