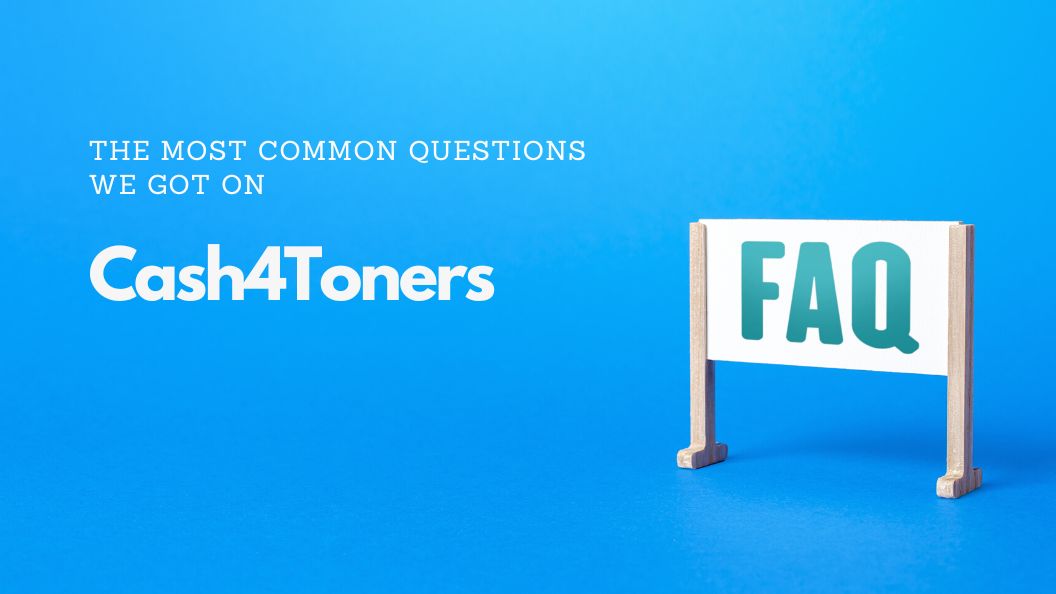 Have a question about what products Cash4Toners buys?
Take a look below at our frequently asked questions to find the answers you seek.
Check out the full list of toner brands we buy on our What We Buy page.
Ready to make some easy cash? Head over to our toner buy back form to get started!
How can Cash4Toners help me?
For starters, if you've got unused toner, we'll pay you cash for it!
How much cash will I get for my unused printer toner?
Our prices vary depending on the manufacturer, original retail price, proximity of the expiration date, and other factors.
How does it work?
Cash4Toners has a simple online form with drop-down menus that allows you to choose the brand of toner cartridge, part number, condition and quantity.
A couple clicks and that's it!
What if my toner box is damaged? Will you still buy it back?
If the packing box has some damages, we will pay according to its condition.
Please make sure when filling out the form, to select the star that most accurately fits your item's condition.
Do you buy ink jet cartridges?
We purchase sealed, inkjets that have at least 6 months before expiring.
The expiration date is usually displayed on the back of the box.
Do you buy compatible, generic, or remanufactured toner?
We do not buy out-of-market, compatible, generic, or remanufactured toners.
All toners must be original OEM from major printer manufacturers.
What brands of printer toner do you buy?
Cash4Toners buys back all brands of popular toner, including Brother, Canon, Dell, HP, IBM, Konica Minolta, Kyocera, Lexmark, Okidata, Panasonic, Ricoh, Samsung, Sharp, Toshiba, and Xerox.
Do you buy used or empty toner cartridges?
We do not buy used or empty toners, nor toners that are leaking or have missing pull tabs.
Toners that have been installed, or attempted to be installed, will not be accepted.
How will I get paid?
Cash4Toners pays via PayPal or check.
How much will it cost me to ship my toner?
Cash4Toners provides a free shipping label for you to use when mailing your toner cartridges.
Do you buy anything else besides toner cartridges?
We specialize in purchasing surplus, overstock, clearance, closeout, and liquidation inventory of genuine OEM printer supplies.
We purchase ink and toner cartridges for copiers, printers, fax machines, and multi-function business machines.
How can I contact you?
Give Cash4Toners a call at (800)-215-4761. Drop us a line at selltoner@cash4toners.com.
Where are you located?
We are based in Northvale, NJ, only 15 minutes from Manhattan. Plug us into your GPS and pay us a visit! 
Cash 4 Toners
160 Legrand Ave. 
Unit B
Northvale, NJ 07647
Who are Cash4Toners' customers?
Our customers include small businesses, corporations, schools, legal firms, government offices, and, of course, anyone with surplus toner to sell!
How long has Cash4Toners been in business?
Cash4Toners has over ten years of experience in the imaging supplies industry.
We pride ourselves on high-quality customer service and a long-lasting relationship with our customers.