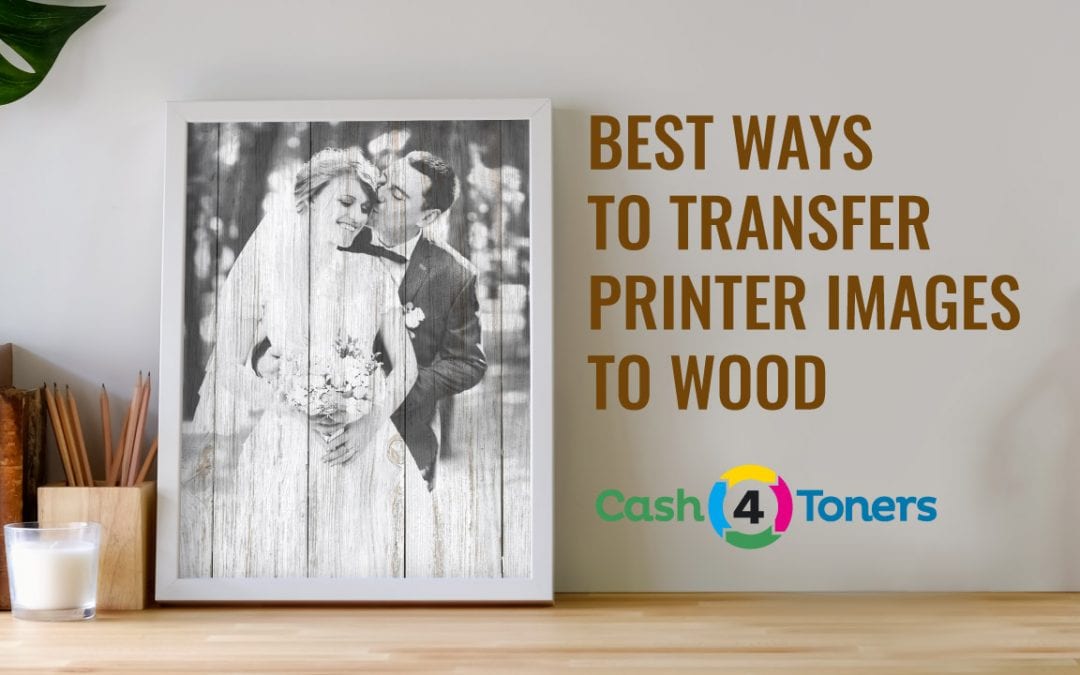 So, how to transfer print to wood?
Transferring a printed image to wood has confounded artists and crafters for decades.
How do you transfer a picture to wood? What is the secret to printing on wood?
Is there an easy way to transfer printed images to wood? Yes! Here's how!
Pick A Method
There are several different methods for transferring a print to wood, each with its own pros and cons.
The key is picking the right method for the end result you're looking for.
Heat Transfer — A clothes iron or woodburning tool can transfer laserjet print to wood.

Pros: Fast, easy, low mess.
Cons: Light images, potential burns to wood…or you!

Gel Medium Transfer — This method, using a gel transfer medium like Liquitex or Mod Podge, can be used to decorate custom guitars!

Pros: Low odor, fairly smooth results.
Cons: Long drying time, messy, wet soggy paper slush clean-up.

Acrylic Poly Transfer — This method produces the best results for clean image transfers!

Pros: Great final result.
Cons: Some odor and messy clean-up.
Demand The Best
The best method is a mixture of the above—an acrylic poly used in combination with transfer paper (peel-n-stick label paper with the labels peeled off), run through a laser printer.
You'll also need some type of imaging software to flip your image horizontally so it transfers to the wood properly.
And if you've got unused toner around your office, you already know – we give cash for toner cartridges!
Find the method that works best for you among the demonstrations below!
Transfer Printed Images to Wood Using Parchment Paper
The Crafsman is a gifted YouTuber who has several videos demonstrating different ways to transfer images to wood.
With his smooth voice and laid-back style, the Crafsman will have you binge-watching SteadyCraftin' videos all day!
He shows how to put a picture on wood here, and he'll tell you how to fix what you're doing wrong here. (Includes bonus Crafsman rap track: "Peelin' Off The Labels.")
His trick of adjusting the image brightness to ensure the right amount of toner gets on the slick label paper is a pro tip!
You can bet The Crafsman is smart enough to sell his excess toner to a toner buyback company!
5 Ways to Print on Wood | DIY Image Transfer
Handyman Brad Rodgrigez demonstrates five different ways of transferring pictures to wood.
Acetone, a clothes iron, polyacrylic, gel medium, and a CNC Laser.
Brad gives you a quick rundown on each method, outlining which are best and which are most affordable.
Save money by selling your surplus toner cartridges, Brad!
How To Transfer A Picture To Wood
CrystalAnn talks fast, but she knows exactly how a Mod Podge photo transfer to woodwork.
But she needs to slow down and say "Mod Podge," not "Modge Podge." It's not a "Modge Podge photo transfer" and you don't spread "Modge Podge on wood".
You can, however, use Mod Podge as a photo transfer medium. Whatever you call it, CrystalAnn knows her way around a Mod Podge photo transfer and Mod Podge wood transfer techniques.
Unfortunately, the amount of negative feedback CrystalAnn experienced due to this mispronunciation caused her to disable comments for this video.
Lighten up, everyone! Watch a cute cat video or cash out your surplus toner!
How to Transfer Inkjet Print to Wood
Woodturning with Tim tackles the process of inkjet transfer to wood.
Using an Epson printer and label paper, Tim is able to move an image from his computer to the bottom of a wooden bowl.
Impressive, Tim, but dump the inkjet before your ink dries out and buy a laser printer, okay?
You can sell us your surplus toner!
Transfer Image to Wood With Palissade Transfer Paper
Tom Palissade Transfer Paper claims it is the first paper ever made specifically for transferring images to wood.
It certainly works well in the video. Hey Tony! You should sell us your surplus HP toner!
Transfer Laser Print to Wood
Deland Woodworks demonstrates three ways to transfer laser print to wood; Liquitex gel medium, water-based acrylic poly, and a heat gun.
Can't beat the crisp clean results of the acrylic poly . . . or the instant gratification of a heat gun!
PHOTO TRANSFER TO WOOD
Nearly 9 million people have watched Adrian Salisbury put an image of his family onto a scrap of wood.
Adrian takes you through the entire process, from digitally preparing the image on the computer to choosing the right transfer medium and transferring photo to wood.
Here's another crafter who needs to buy a cheap laser printer instead of running down to Staples for laser prints.
It's worth it Adrian, and if you find yourself with any unused, HP laser printer toner cartridges left over, we'll buy them!
Transfer Picture to Wood
Two-and-a-half million people have watched hot mom HeyKayli transfer pictures to wood using a variety of gel mediums. (She gives her heart to Mod Podge!)
Kayli needs to stop running to Kinkos for prints and buy her own laser printer . . . and sell us her unused toner. Do it, Kayli!
Inkjet Photo Transfer to Wood: Simple and Easy Way
More than one million people have watched CutArt transfer images to wood using a transparency (OHP) sheet and an inkjet printer.
The results are pretty good but you have to deal with inkjet mess.
Get a laser printer! You can sell your surplus toner, and you'll have lower print costs over the long run!
Transfer Photo to Wood – 3 Different Ways!
Don't mess with a Girl and a Glue Gun!
This crafty YouTuber accepts the challenge of transferring prints to wood and successfully demonstrates three different methods for pulling it off.
First she uses regular wax paper, second she tries a label backing sheet, and third is with a laser print and Mod Podge.
Get yourself a laser printer, Girl and a Glue Gun! It'll save you money, your projects will look better and you can sell back your surplus toner!
20 EASY WAYS TO TRANSFER IMAGES TO DIFFERENT SURFACES
Yep, there are twenty different ways to transfer images to different surfaces in this video, though some work better than others.
Our favorites are the images transferred to candles! Cool! We wish people would sell us their unused toner! It never expires!