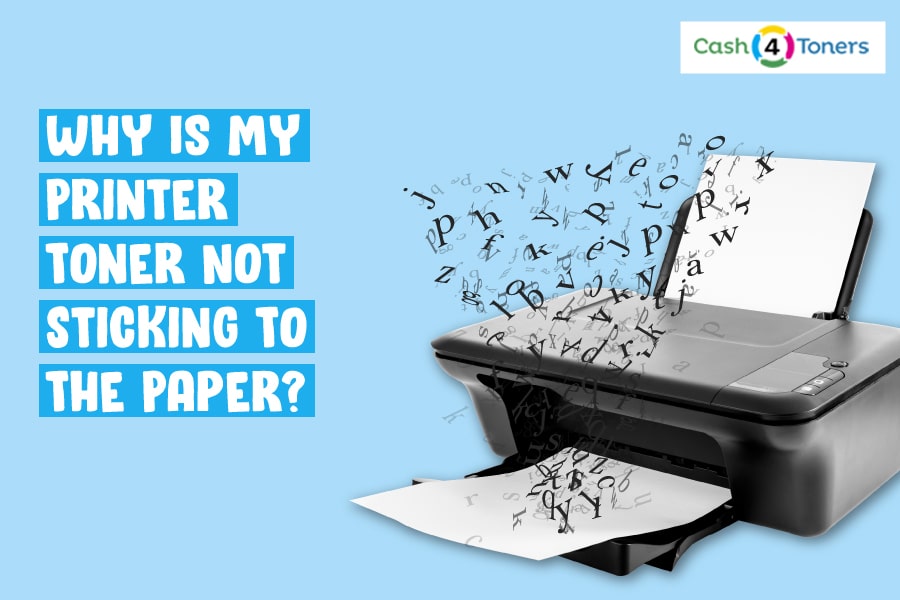 Laser printers are great until they stop working right. Then, they are anything BUT great.
Say you've got a document that is due on your bosses desk in 15 minutes. Or a proposal to be in the mail by end of the day.
So you hit 'print' only to find ____________.
Aarrgghh! Why is the toner not sticking to the paper?
What's Up With This Toner?
So, what exactly is going on with the toner? How can you rectify the matter ASAP?
It's a common scenario.
Fixing non-sticky toner problems shouldn't be too challenging. We've got you covered. 
Plus, we've offered a few troubleshooting tips to get things flowing again!
Here's the problem:
The toner is not fusing to the paper. It flakes or rubs off the page.
There may be smears on the printed page. Now is a good time to change the fuser, if damaged.
It may not be hot enough to fuse the toner to the page.
Oh Brother, You're Smearing
Ever have a Brother printer leave black smudges on paper?
It sucks when your Brother laser printer is smearing toner. Brother laser printer smudges are annoying.
So is a Brother laser printer that spots on paper. What are you, a puppy? Get a grip, Brother!
If your printer is smudging on one side it may be a result of printer fuser problems.
Maybe that thing's not getting hot enough and the toner is not fusing to the paper. Yeah. That's right.
Ink & Labels
If your printer is smearing ink, you should not be reading this article because it's about laser printers and toner. Go away, inkjet boy!
If you want to learn how to stop ink from smearing on glossy paper, go somewhere else.
You'll find no answers here . . . unless you want to learn how to clean ink up.
Need info on toner smudges on paper or laser printer smudging?
Trouble with laser printer toner smearing or toner spots on paper? We can help! 
Want to know how to print on clear labels without smearing?
First, make sure your labels are laser printer ready.
Second, check the cardstock setting on your HP printer.
The thicker label sheets may not be feeding through your printer correctly.
6 Fixes When Printer Toner Is Not Sticking To The Paper
If your printer takes different types of media, Verify that the media (paper/card) used matches the printer setting.
Adjust the Fuser and BTR (transfer roller) to properly match the specific media (card/paper) used.
Try to adjust the fuser temperature to the highest setting — especially if you are printing using specialty type papers or card stock. Refer to your specific user manual for directions how to adjust the temperature setting on the printer.
Swap out the fuser for a new one if available. See if the problem persists.
Using a generic, off-brand toner cartridge? it could be a matter of poor quality or incompatibility with the fuser. Try purchasing brand name, original toner.
If the toner is still not adhering properly, break out the product manual. Or reach out to the manufacturer's tech support. If you are lucky enough to work with an in-house IT department, call them for assistance … FAST!