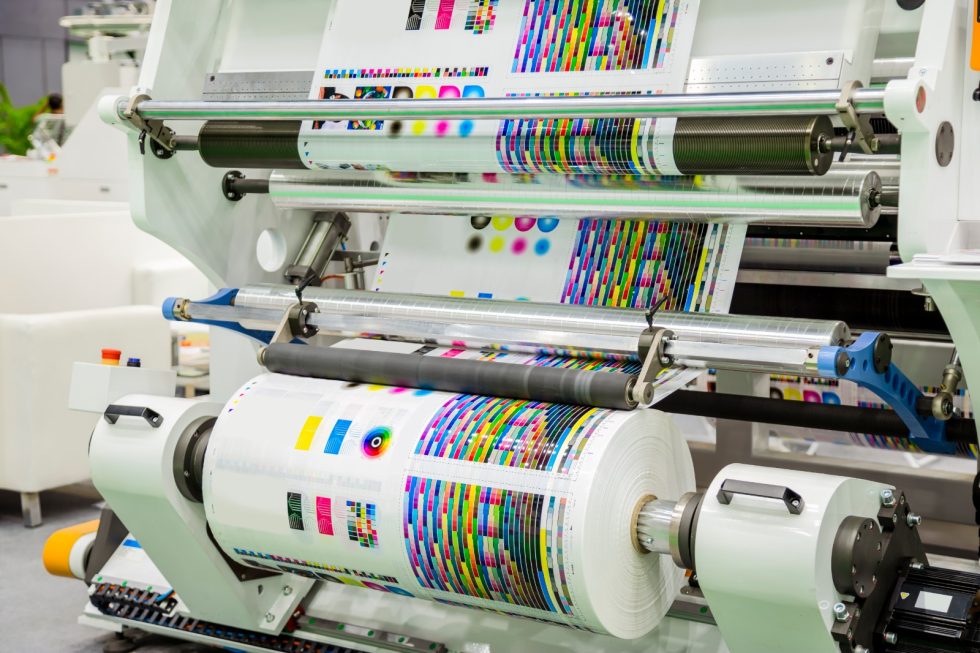 A look at the latest printing statistics shows how the landscape of professional printing continues to change and evolve.
The professional printing market once centered around putting text on paper, in the form of books, magazines, and newspapers.
This was the precursor of the Information Superhighway when information was kept with paper and ink.
Modern commercial printing is also about disseminating information, but it has taken the form of graphics and packaging, pushing the boundaries of what materials can be printed on besides paper.
Printing has transformed from newsstand products to vinyl laminated advertisements splayed across the sides of buses.
What Kind Of Printing Are We Talking About?
All kinds. Commercial printing includes traditional book and newspaper publishing as well as screen printing, flexographic printing, gravure printing, lithographic printing, and other types of package printing.
Below, we'll look at the latest statistics on global commercial printing, the print industry in the United States, the current state of 3D printing, as well as printing in American offices.
Commercial Printing Industry Statistics
The commercial printing industry is slowly transforming from large offset printing presses to more efficient and eco-friendly printing digital printing machines.
According to Ibisworld, the market share held by digital printing is expected to increase 15.7% in 2017 to 19.3% by next year.
The global printing industry is forecast to reach $821 billion by 2022
Revenue from print advertising increased 18% between 2019 and 2020.
Print production in China fell by up to 80% during the global pandemic.
50% of China's printing revenue comes from packaging.
30% of China's printing market comes from traditional publishing.
76% of the global printing market revenue was generated by industrial printers in 2020.
United States Printing Industry Statistics
The print market in the United States has been in a continual state of decline over the last several years.
However, economists predict a growth spurt for the printing industry over the next five years, driven by business expansion.
The anticipated launch of new products and services will rely on direct mail campaigns and print advertising to support them.
Commercial printing generated $77.7 billion in the US in 2021.
The US printing industry has declined an average of 2.5% per year between 2016 and 2021.
US print industry revenue decreased 3.4% in 2020 as a result of the COVID-19 pandemic.
The US printing industry is declining at a faster rate than the US manufacturing industry.
More than that, the US printing industry is declining at a faster rate than the overall United States economy.
The US printing industry is the 14th largest manufacturing industry in America and the 147th largest industry overall.
The US printing industry employed 349,562 people in 2021.
There were 45,029 American printing businesses in 2021.
The states with the most printing businesses are California (2,909), Texas (1,638) and Florida (1,488).
A typical American printing business employs between 7 and 8 people.
The average of 7.6 employees per printing business increased from 2016.
74% of employees aged 18-34 think print is important.
77% of IT employees aged 18-34 think print is important.
The revenue per employee in the US printing industry has decreased between 2016 and 2021.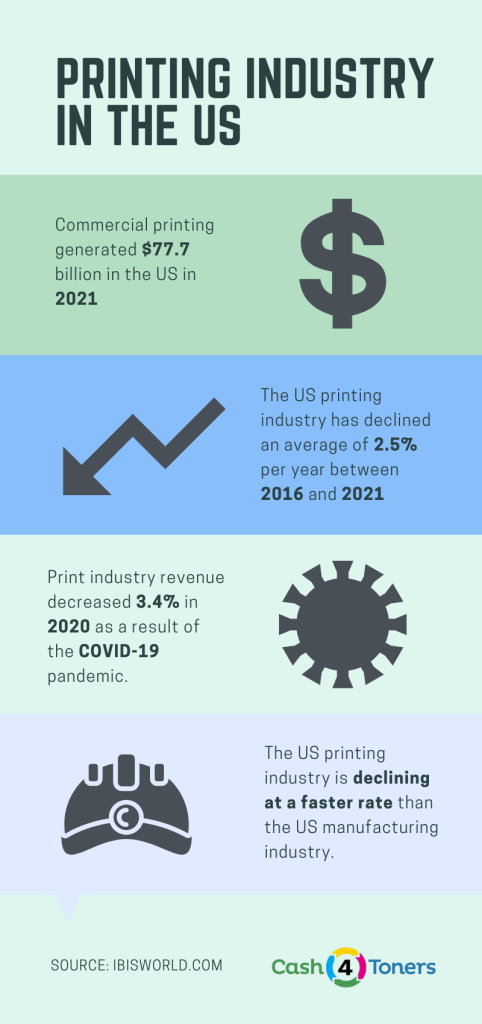 3D Printing Statistics
Unquestionably the biggest thing to hit the printer market in the last decade is 3D printers.
3D printers were once hailed as the "one to watch" by Printing Industry Trends 2015, and by 2021 the 3D printer market has grown to a nearly $14 billion industry and continues to be the fastest-growing trend in the printing market.
The global 3D printing market is valued at $13.7 billion in 2021.
The global 3D printing market was valued at $12.6 billion in 2020.
Metal and metal alloys are the fastest-growing segment of 3D printing.
Product development is the top priority for 3D print manufacturing.
The global 3D print market is expected to grow 21% annually between 2021 and 2028.
The global 3D printing market is expected to reach a value of $37.2 billion by 2026.
General Electric holds the most 3D printing patents in the US.
2.1 million 3D printers were shipped in 2020.
15.3 million 3D printers will be sold by 2028.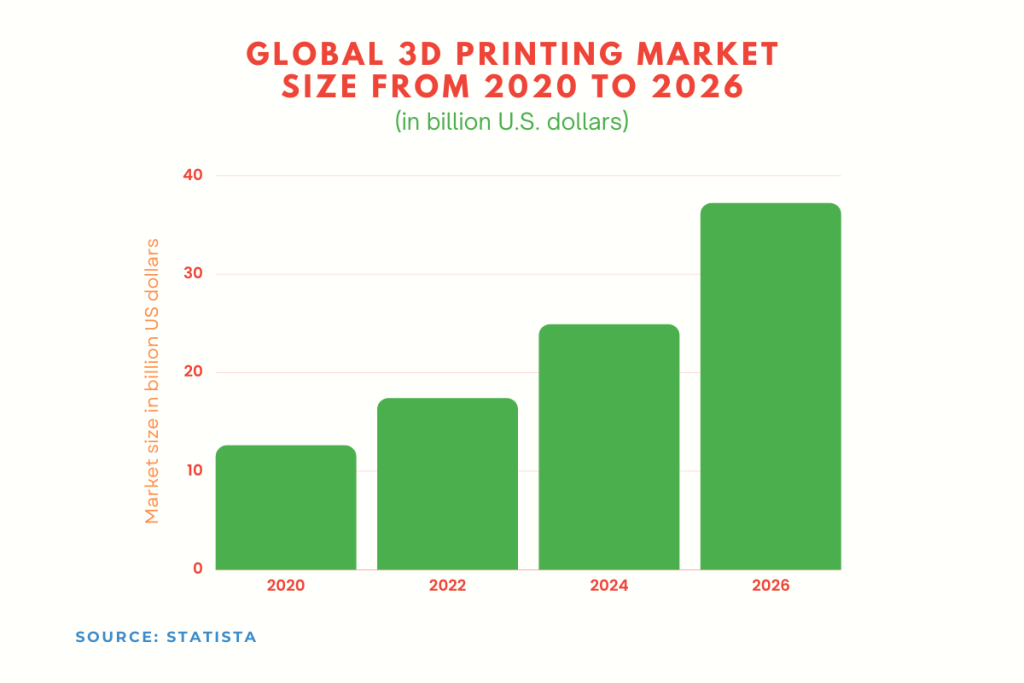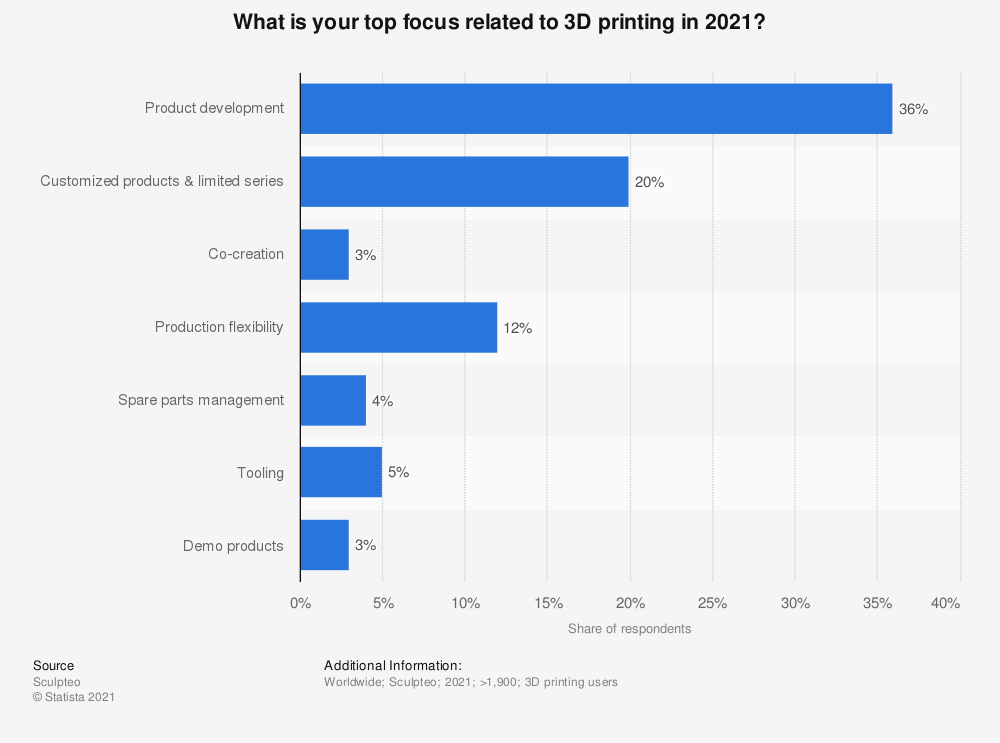 Office Printing Statistics
The paperless office is a myth — employees still print a lot of pages in order to get their jobs done.
While office printing doesn't consume raw materials like commercial printing, it can be an important cost factor for small businesses and is a good gauge for where the print vs. digital divide occurs within a company.
Your employees understand the importance of print… so keep your printer rollers clean!
Office and home printing dropped 13.7 percent in 2020 as a result of the COVID-19 pandemic.
2.8 trillion pages were printed in 2020 compared to 3.2 trillion pages in 2019.
IBM Hardware Management Console (HMC) leads the global office hardware industry with a 25.33% market share.
94.35 million office printers and copiers were shipped in 2019.
Printer and copier sales increased 12 percent in 2020 to 107 million units.
The office supply industry is expected to generate 8.2 billion by 2024.
Future Trends In Printing
By far, 3D printing is the industry's "bold new frontier."
The 3D market will expand exponentially as new technologies — and new materials — emerge.
Today the hot trend in 3D printing is metal and metals. What will the raw materials of 3D printing become in the future?
Atoms and molecules? Human cells? The possibilities are endless.
Meanwhile, traditional commercial printing will experience a resurgence over the next five years, as the economy rebounds from COVID-19.
Packaging will continue to be a bread-and-butter revenue stream for commercial printers.
Further reading:
Sources

https://www.ibisworld.com/industry-statistics/market-size/printing-united-states
https://www.grandviewresearch.com/industry-analysis/3d-printing-industry-analysis
https://www.mordorintelligence.com/industry-reports/commercial-printing-market
https://www.smithers.com/services/market-reports/printing/the-future-of-global-printing-to-2024
https://quocirca.com/quocirca-state-of-the-channel-2020-executive-summary
https://www.statista.com/statistics/315386/global-market-for-3d-printers
https://www.statista.com/statistics/559749/worldwide-survey-3d-printing-top-priorities
https://www.statista.com/forecasts/1247406/worldwide-printer-and-copier-market-volume-growth
https://www.statista.com/statistics/541347/worldwide-printer-market-vendor-shares
https://www.statista.com/statistics/1127850/printed-page-volume-worldwide-home-office