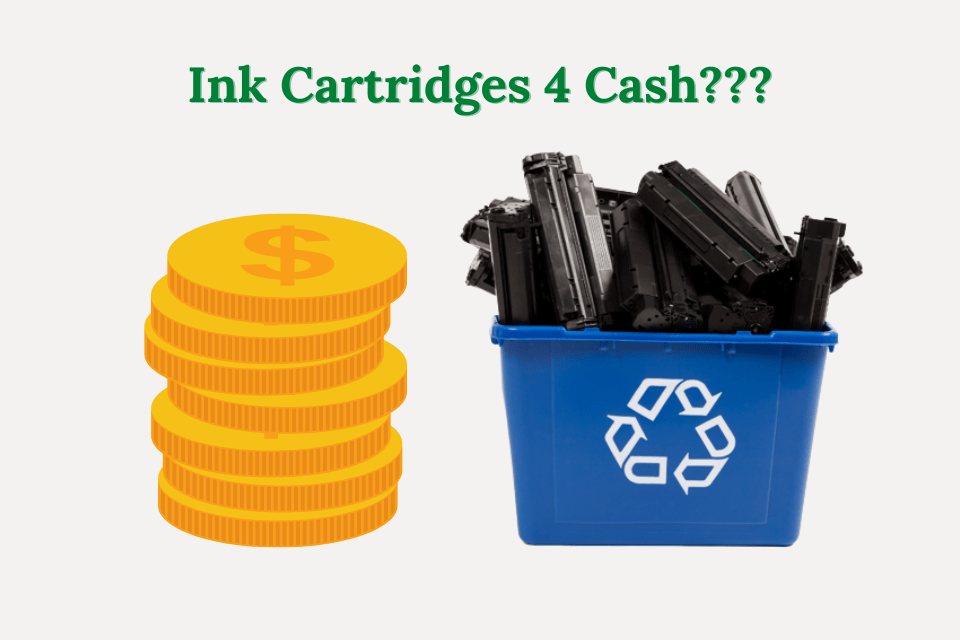 Ink cartridges, oh how we love you! You keep our inkjet printers going strong! But why there are always so many extra ink cartridges lying around?
Maybe those cartridges are left over from when you bought a new inkjet. Or maybe you inherited an office filled with leftover printer cartridges.
Maybe those cartridges are multiplying overnight in the supply closet. What's going on in there?
It's time to recycle ink cartridges for cash!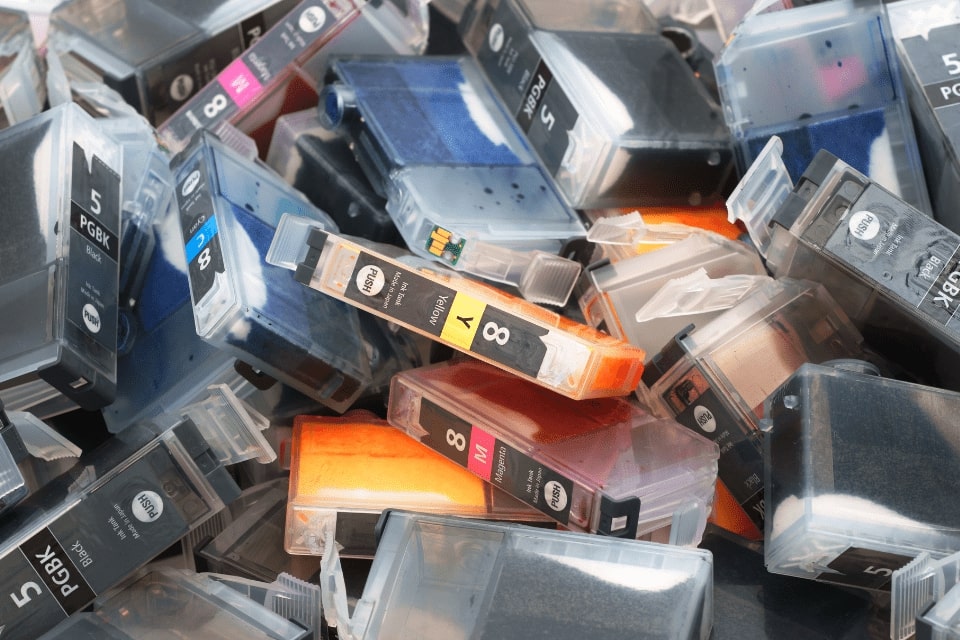 Get Rid of Those Extra Ink Cartridges!
As much as we love ink cartridges, there always seems to be too many of them around, ones you don't need or don't use.
But, if you're lucky, you can sell your extra ink cartridges for cash!
We will show you how below.
How To Recycle Ink Cartridges For Cash
Let's look at how to get paid for your unused ink cartridges.
Hot Date
Unlike toner cartridges, which last almost forever, ink cartridges have a definite shelf life.
Toner is a dry powder stored in a sealed container, while ink is a liquid. Liquid will eventually dry out over time.
And, even if your ink is still liquid, it may have separated and become unusable over time.
Even an ink cartridge that's never been opened can still go bad once it's past its expiration date.
That's the key difference between ink cartridges and toner cartridges. Ink cartridges expire. Toner doesn't.
Ink cartridges are used in inkjet printers and toner cartridges are used in laser printers.
Check out our Toner vs Ink – What You Need To Know!
So, the first thing you'll need to do in order to sell your ink cartridges is to locate the expiration date on the packaging.
It is usually stamped onto the back, top, or bottom of the ink cartridge's outer packaging.
Sometimes the expiration date can also be found on the cartridges themselves, but if you remove them from the original packaging you won't be able to resell them.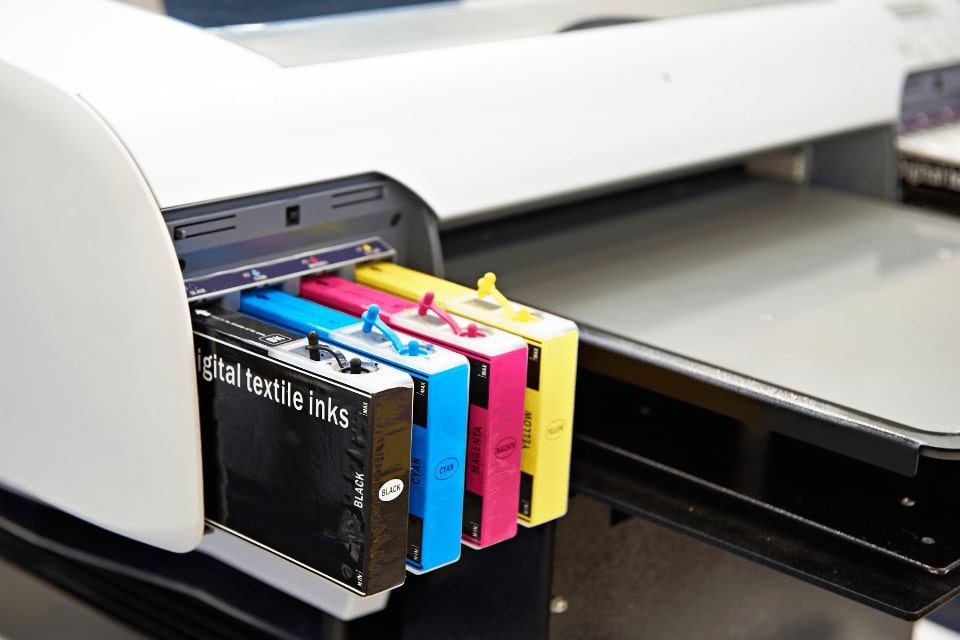 More Than Six Months Remaining
What's the expiration date on your ink cartridges? Are there still at least six months left before they expire? Yes! Good! That means you can sell these cartridges for cash to a printer cartridge buyback company!
It would be wonderful if we could sell all our old printing supplies for cash. But it doesn't work that way when it comes to ink cartridges.
You must act within an ink cartridge's shelf life if you want to get any money out of your surplus ink cartridges.
Unused print cartridges that are in the original packaging and within the expiration date listed on the packaging can be easily sold online.
If you want to recycle ink cartridges for money, you'll get the most if your cartridges are in new or nearly new condition.
Buyback companies will purchase cartridges in damaged boxes but they won't pay as much for it.
Opened or used Ink cartridges cannot be sold and should be properly recycled.
The Benefits of Selling Ink Cartridges
Don't wait too long. Every day gets closer to the expiration date for those ink cartridges, at which point they become valueless.
If you've got ink cartridges with six months or more left before the expiration date listed on the package, put them up for sale as soon as possible so you can get top dollar for them.
Not only does selling your unused ink cartridges for cash make good financial sense, but it's also a responsible global business practice.
Why let a valuable resource, like printer ink, go to waste when somebody else may need it?
Find those unused ink cartridges a happy new home (or office) where they can be used to print glorious documents!
Less Than Six Months Remaining
Has the expiration date on your ink cartridges passed or has less than six months remaining?
If so, you, unfortunately, will not be able to sell your ink cartridges to a buyback company.
If your surplus ink cartridges are unboxed or expired they should be recycled.
You can recycle your ink cartridges at most office supply stores or through a recycling-by-mail program.
If there are less than six months remaining on your ink cartridges, it's time to recycle.
How To Recycle Expired Ink Cartridges
Even if your ink cartridges become worthless it is still essential to properly recycle them.
Recycling ink cartridges is vitally important to protecting the earth's environment.
Ink cartridges are made of plastic and will last for thousands of years in a landfill if not properly recycled.
Keep these plastics out of landfills and recycle your ink cartridges the right way. Mother Earth will thank you for it!
There are a few different ways to recycle your used and/or expired ink cartridges.
In-Person Drop-Off
Most office supply stores, like Staples or Office Depot, will have a bin where you can drop off old ink cartridges for recycling
You can also find ink cartridge recycling bins at most Walmart, Target, and Best Buy locations
Recycle your cartridges at a third-party recycling center
Your local recycling center will also accept ink cartridges
Third-Party Recycling
There are several third-party ink cartridge recycling programs available.
If you search around, you can even find a recycling center that donates to charity. Support these good-hearted recyclers!
Dedicated recycling centers often handle e-waste like computers, monitors, and printers.
These items can be challenging to recycle since they need to be broken down into component parts.
Many dedicated recycling centers will also handle printer supplies, like ink cartridges.
Here are some third-party recycling programs for ink cartridges:
Earth911.com – find your local recycling center
Clover Environmental – innovative recycling programs
Cartridges for Kids – cartridge recycling as a fundraising source for schools, churches, and other nonprofits
Evolve Recycling – pays organizations for empty ink and toner cartridges
Terracycle – free recycling programs for hard-to-recycle waste
Recycling By Mail
You can recycle your ink cartridges by mail for free.
Most printer manufacturers will pay the cost of shipping recycled ink cartridges back to the factory.
Mailing your recycled ink cartridges is a convenient option for many, especially in the age of COVID!
One of the best aspects of mail-in recycling is that you know your empty ink cartridges will be properly reconditioned by the original manufacturer.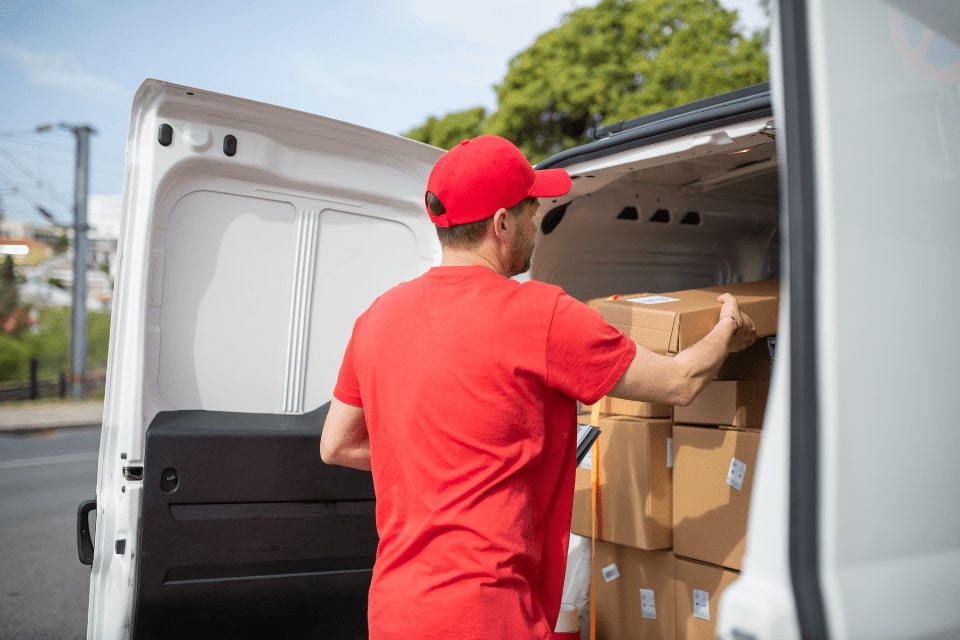 Manufacturer's Cartridge Recycling Programs
Nearly all major printer manufacturers offer free cartridge recycling programs.
How to Recycle HP (and Samsung) Ink Cartridges
You can recycle HP ink cartridges at Walmart, Best Buy, Staples, Office Depot, or by mail by following these steps.
Choose the items you want to recycle (ink, toner, or supplies)
HP will provide a mailing envelope or a pre-paid shipping label
From there it's as easy as packaging up your old cartridges and shipping them off to HP!
Check out the video below for more information on HP's "closed loop" ink cartridge recycling program.
You can also recycle your HP ink cartridges for cash with Cash4Toners.
How to Recycle Brother Ink Cartridges
Send Brother your empty ink cartridges and they will recycle them for you for free.
Fill out the form to receive a prepaid mailing envelope
Load your empty cartridges into the prepaid mailing envelope provided by Brother
Drop the envelope off at the post office
To learn more about recycling Brother ink cartridges click here or check out the video below.
Or you can recycle your Brother ink cartridges for cash with Cash4Toners.
How to Recycle Canon Ink Cartridges
You can recycle Canon ink cartridges at any of over 1,600 FedEx Office Print and Ship Centers.
Find the nearest FedEx Office Print and Ship Center by clicking here.
You can mail empty cartridges to Canon at the address below, but you will need to pay your own postage. Come on, Canon!
Canon USA, Inc.
Attn: CETI
5980 Industrial Drive
Gloucester, VA 23061-3874
How to Recycle Epson Ink Cartridges
Epson has a robust recycling program to deal with end-of-life hardware as well as printing supplies.
Visit the Epson Recycling site and you can create a prepaid FedEx shipping label to return your empty ink cartridges to Epson for free.
How to Recycle Dell Ink Cartridges
You can drop off your used Dell ink and toner cartridges at participating Goodwill centers.
This ensures your cartridges are properly recycled and also helps create jobs in the community.
You can also request a free mailing label from Dell to recycle your used ink cartridges.
Simply pack your old ink cartridges in a box, tape it up, add the prepaid shipping label, and drop it off at the post office.
Check out Mary's cool video on Printer Cartridge Recycling!
Can I Refill Empty Ink Cartridges Instead Of Recycling?
You can try it, but we don't recommend it.
Refilling ink cartridges is messy, and the resulting printouts are often disappointing.
You won't get the same high-quality prints from refilled cartridges that you will from original OEM ink cartridges. The same goes for third-party or compatible ink cartridges.
Printer manufacturers formulate ink specifically for certain models of printers.
If you want the best out of your inkjet, stick with genuine ink cartridges.
Further reading:
Sources

https://earth911.com/
https://www.cloverenvironmental.com/
https://www.cfktoday.com/
http://www.evolverecycling.com/
https://www.terracycle.com/en-US/brigades
https://inktoner-recycle.ext.hp.com/ui/index.html?languageCode=en&countryCode=US#/recycle/shipit-in/get-started
https://www.brother.is/recycling/inkjet-recycling-landing
https://local.fedex.com/en#start
https://epson.com/recycle-program
https://www.dell.com/en-us/dt/corporate/social-impact/advancing-sustainability/how-to-recycle.htm#/cdt/home/ink-and-toner-cartridges